Acquisition for Exponential Growth with Jeffry Gardner of Sun Auto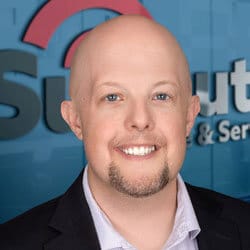 Jeffry Gardner is the Vice President of Marketing for Sun Auto Tire & Service. Jeffry came to GB Auto Service Inc., which is now rebranded to Sun Auto Tire & Service, with the first acquisition of BRAKEmax in late 2017. Since then, he has taken responsibility for the marketing of the entire company and all acquisitions. Before Sun Auto, Jeffry was the Director of Marketing for BRAKEmax and a Store Manager for Goodyear Tire & Rubber Company. Outside of work, Jeffry loves cycling and cheering for the Denver Broncos, the Nuggets, Colorado Avalanche, the Rockies, and all other University of Arizona teams.
In this episode…
Acquiring businesses can be complicated, so how can you smoothly transition ownership without losing your reputation and valuable talent?
Sun Auto has a thriving pattern of acquiring automotive businesses. What started as just 30 stores in two locations has grown into a flourishing chain of over 213 locations across the western US. By preserving each location's unique reputation and prioritizing employee relationships, Sun Auto has continually grown from year to year. What other strategies have proven essential in their path to growth?
On this episode of the Gain Traction Podcast, Mike Edge sits down with Jeffry to discuss how to successfully acquire businesses for exponential growth. Jeffry also shares with us how Sun Auto finds businesses to acquire, what their process is for integrating company cultures, and why it's important to respect a brand's local history.
Here's a glimpse of what you'll learn:
Jeffry Gardner explains Sun Auto's pattern of acquiring business
Hiring challenges in the automotive industry
How did Jeffry get involved with the automotive industry?
First steps towards transitioning to electric vehicles
Future growth for Sun Auto
How Sun Auto respects the brands they acquire
Resources mentioned in this episode: