An Appreciation for Hard Work With Quinton Molnar, Director of Marketing and Business Development at Ward Tirecraft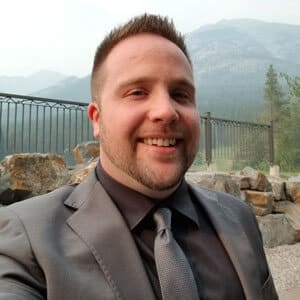 Quinton Molnar is the Director of Marketing and Business Development and the Director of Human Resources at Ward Tirecraft. He's been a management trainee, marketer, and IT guy for Ward Tirecraft and his unique set of skills comes from performing similar roles across multiple industries. Quinton prides himself on turning an average customer experience into an exemplary one.
In this episode…
As an owner or manager of a tire and auto repair shop, do you genuinely appreciate the work that your employees do? It's often said that you can't appreciate what someone else goes through unless you've gone through it yourself. Check out this episode of Gain Traction to hear from someone who considers himself a "company swiss army knife" and can speak from multiple perspectives.
Who's the most critical employee in a tire shop? For Quinton Molnar, the Director of Marketing and Business Development at Ward Tirecraft, the answer to that question is easy — "I always say, our tire techs — give them a jack and an impact, and we can make money in a parking lot." Ward Tirecraft is located in Alberta, Canada, so Quinton has a special appreciation for all the hard work his tire techs do — especially during the winter rush, where they work 12 hours per day at shops working on 90 cars in a day.
On this episode of Gain Traction, Mike Edge welcomes Quinton for a conversation on all things tires. Quinton has been a management trainee, marketer, IT guy, and HR director at Ward Tirecraft. So he's able to provide some unique insights on operations and challenges faced by tire shops. They talk about handling the winter rush in Canada, experiencing exponential growth, reputation management, and more. Don't miss it!
Here's a glimpse of what you'll learn:
Quinton Molnar explains how he transitioned from the restaurant industry to the tire industry
Why Quinton has a broad view of what tire technicians, mechanics, and sales managers go through each day
Why winter rush is so important for tire dealerships in Alberta, Canada
How Ward Tirecraft continued to thrive in the midst of exponential growth
Ward Tirecraft's plans for future growth
Why Hong Kong is Quinton's favorite place to visit
Resources mentioned in this episode:
Transcription
Announcer:
Welcome to the Gain Traction podcast, where we feature top automotive entrepreneurs and experts and share their inspiring stories. Now, let's get started with the show.
Mike Edge:
Welcome to the Gain Traction podcast. Mike Edge here, I'm one of the hosts of Gain Traction, where I talk with top automotive business leaders about their personal experiences in the tire and auto repair industry, as well as extract some words of wisdom. Before we get started today, I'd like to give a shout-out to a previous guest, Larry Sutton, president and founder of RNR Tire Express down in Tampa, Florida. They have 175 locations nationwide. Really cool concept and a great franchise opportunity. You can check them out at rnrtires.com. This episode is brought to you by Tread Partners and the Retread program. Tread Partners has a theory that your best opportunities for revenue are sitting right in front of you, and that's your group of best lost customers. Tread Partners has designed a product called Retread that is a full-scale customer re-engagement program to win back a shop's best lost customers.
It's a one-time 90-day program that generates a guaranteed 10 to 1 return on investment. That is correct, a 10 to 1 guaranteed ROI. No tricks or gimmicks, it's hard work. These are customers that are in your POS system right now, so what we're saying is if you give us $10,000 today, we will return it $100,000 in 120 days. The program's 90-day program, 120 day measurement program… Measurement. And we've removed all the risks, so what are you waiting for? Email us at [email protected] or to learn more, just visit treadpartners.com. Today my guest is Quinton Molnar, corporate firefighter, company Swiss Army Knife and techno nerd of Ward Tirecraft. Ward operates 15 locations in Alberta, Canada and two in Saskatchewan. The organization has been helping make the world go round since 1989. Ward Tirecraft began from humble beginnings with their president and CEO Darren Lyons operating a single service truck with no actual brick and mortar location. Ward Tires was incorporated in 1993 and they opened their first store in 2001. That original location is still owned and operated by the company today. Quinton, welcome to the Gain Traction podcast.
Quinton Molnar:
Hey Mike, thanks for having me. Happy to be here.
Mike:
Yeah. Well, I understand you were sick there for the last couple weeks. It sounded like it was almost a two week episode for you there.
Quinton:
Yeah, it's been rolling through the company as a whole. I was at one of our stores, they were all sick, and then I brought it back to our head of office and then everybody else has got it. It's just one of those things.
Mike:
It was your turn, right?
Quinton:
Yeah.
Mike:
Let me ask you a question, real hard-hitting one here, so how'd you get in the tire business?
Quinton:
It happened by fluke, almost. Prior to being in the automotive industry and tire business, I was actually in the restaurant industry, and ironically enough… Not to take a really sad turn, but I had lost my mom and I was general manager of a restaurant, and you're working 60, 70 hours a week running a restaurant, killing yourself, and when you go through something life-changing like that, you reevaluate what life's about and refocus some things. And so I had left the restaurant industry and was looking for work, doing all kinds of interviews and stuff like that, and I've actually known Darren and dealt with our Chinook location since before I even started driving, and it was my brother actually who had worked for Darren ages and ages ago who suggested, given my skillset, Darren might have a place for me within the group. I called him and weeks went by and never heard back, and so I'm just like continued on with my search and I was literally on my second interview with this company driving there and my phone rang and it was Darren.
And he's like, "Listen, don't take any job without sitting down with me first. I want to talk to you. I know it's taken me forever to get back to you, I was out of the country on business," yada yada yada. I was like, "Well, Darren, I'm literally, I'm thinking I'm taking this job." And he's like, "Come see me tomorrow." Saw him, and I've always had a love for cars. My dad, I came by it honestly, there was always some car project going on for my dad in his spare time. He built a couple dune buggies in my lifetime and used to flip cars when he was a young father to side hustle, so he'd buy cars cheap and fix them up and detail them and make some extra cash. Yeah, it all seemed like a good fit. It's definitely a lot different than it looked back then. When I first sat down with Darren, I was getting hired as a store manager, and as you so nicely introduced me with my joke title, as I like to think of it, I wear a lot of hats these days.
Mike:
[inaudible 00:05:46]. Just to repeat it for our listening audience, it's corporate firefighter, company Swiss Army knife and techno nerd. And I know you're a techie guy, so it's… No, but I love your title. Obviously Darren became very reliant on you, or he put a lot of trust in you in a lot of different roles, it appears.
Quinton:
Yeah, so my actual internal title is business development and marketing human resources director, and I also handle a lot of our IT stuff, and it's just one of those things that based on skillset, it just ended up in my lap as I went along. I started on the tools as a tire tech. Darren wanted me to start there and see. And I had actually way back when my brother worked for the company, I would help him out part-time on weekends when I was still in school, and so it wasn't my first rodeo on the tools, but definitely a couple winter rushes later I was a slimmer man, and-
Mike:
It's cool though that Darren started you from the tech level so that you could see everything that you guys got to know about in the company from the ground up.
Quinton:
Yeah, it's something honestly that I'm still grateful for to this day, just because especially with the human resources side of my role, I know what my guys are going through. Winter rush is no joke for us. I know you guys don't get the snow down there like we do, but yeah, seasonal changeovers.
Mike:
And by the way, you're my first… You're my first Canadian interview.
Quinton:
Oh, I'm honored. Yeah.
Mike:
[inaudible 00:07:38]. Yes, we're glad to have you.
Quinton:
Yeah, so I-
Mike:
I think it's cool because you think… The reality is without techs it doesn't work, and now what the techs go through and they are an extremely important component to the company.
Quinton:
100%. Yeah. I always say our tire techs, give them a jack and an impact and we could make money in a parking lot. Well, and like your very kind introduction about our CEO, Darren, that's how it all started for him. He had a service truck that he operated, and then like he says, was working 12, 14-hour days and then got so busy he's like, "Okay, I'll get another truck." And it just rolled on and on from there.
Mike:
Well, he has definitely a great appreciation for hard work, and just that value of that perception, and then he put you there so that you could… It obviously helps you in your role of HR, but I think it helps you in your role as a techie too, being the IT. No matter what, just knowing it from that level. Because that's what you get paid to do, right? That's ultimately what we as a industry get paid to do is sell new tires, put new tires on and get people on the road.
Quinton:
Yeah. For sure. Well, and yeah, having the broad overview of what my tire techs go through, the mechanics, my sales guys, managers, because I have moved through all those roles, it's definitely implementing new technological services, you're more mindful of that. One of the things I'm working on right now is reputation management software integration. Basically helps us deal with Google reviews, also sends out requests to our clients after service, and my main thing was, is the last partnership we had, their app was a little quirky, which for a lot of my sales guys just doesn't work, because they don't have the luxury of being parked in front of a computer all day. They're back and forth talking to their techs, the mechanics, making sure the shop's running smoothly throughout the day. Yeah, just little things like that, for sure.
Mike:
Well, and you brought up something that's interesting, you talking about the winter rush. You being my first Canadian company that I've interviewed on here, let's talk about that. For our listening audience, we get quite a few downloads per week, but tell us about what that rush is in Alberta and what it means to you guys, and the effects it has on the company.
Quinton:
Yeah, so we have two seasonal changeovers because up here a lot of people tend to run two sets of tires, a winter set which are straight tailored for the wintertime, and then a summer set, which for most people is an all-season tire. Up here, I always tell people an all-season, even though it's in the name, is not all-season, it's more like a three season tire. Rubber compounds in a winter tire are entirely different than a summer tire. A summer tire's based for… Built for longevity, sorry. And a winter tire, it's much softer compound. Rubber gets hard when it's minus 40. Yes, I said that. It's minus 40 in the wintertime. I sometimes question my sanity for living in a place where it gets that cold, but then I remind myself, unlike down south, our bugs don't get big enough to drive cars up here because winter kills most of them.
Mike:
[inaudible 00:11:41].
Quinton:
But yeah it's always funny because you could feel the energy start to build in September, we're all, as employees, are we're mentally preparing ourselves, because at the store level, our tire techs, sometimes you're… It's a 12-hour day. The shop's pumping out 90 cars in a day and it's crazy, because I'll show up to some of our stores in the middle of winter rush and there's nowhere to park.
Mike:
Yeah. [inaudible 00:12:14].
Quinton:
And [inaudible 00:12:15].
Mike:
A little testimony to that is just the fact that you know that I invited you a while back, and you had expressed the fact that you're going to be busy or whatever, and that you'd appreciate doing this on a Saturday, so we're doing this on a Saturday, and even in your particular role with the company, it's that busy.
Quinton:
Yeah. And it's one of those things that we have a general idea of when winter rush hits, it's October, November is peak winter rush for us, but it is 100% weather-dependent. We had our first snowfall last weekend, and so it kicked things off this week. I had a conversation with one of my vendors and they're like, "Hey, I emailed all your store managers and I didn't get a response." And I'm like, "That sounds completely accurate." And she's like, "What do you mean?" I was like, "Well, generally if I'm contacting my managers, it's fairly mission-critical a lot of the time." And the response I get from them is, "What do you want?" When they answer the phone.
And I don't take it personally because I know they got probably nine people in front of them and three lines on hold and it just comes with the territory. The part I always find funny that is a blessing, is we go from absolute pandemonium and then January, February just traditionally just dies. Christmas time, a lot of people spend a lot of money in the lead-up to Christmas time, and so vehicle repairs, those types of things fall by the wayside for a month or two while everybody catches back up with things.
Mike:
Yeah. No, it's so interesting. Well, so in January and February, what do you guys do as a company? What do you focus on then?
Quinton:
Big mechanical jobs. A lot of requests that'll come in, in October and November, I was actually stick handling one yesterday. Guy needs to do a transmission swap. That's the type of stuff that we try and book for January, February. Obviously we don't want somebody… If their vehicle's out of commission, but… We try and line those types of jobs where we're going to have a car on a hoist for a week, possibly. Especially right now, parts being what they are, it's a bit of a disaster. I was trying to quote a brake job on Friday and I couldn't find brakes for the truck, and I'm like, "This is insane." Well, let me rephrase. I couldn't find decent brakes for the truck. I could find cheap Chinese ones, but we're not in the habit of putting those on because then a week goes by and they come back and they're like, "My brakes are squealing." We've just got in the habit, there's a certain tier level of brake package that we'll do and just that way the customer's happy.
Mike:
Well, I'll tell you… I'll tell you what's impressive about you guys, just going on another tangent too, because we don't have a lot of time, but you guys, you really grew exponentially fast, and I would say that it had to be the fact that you guys were good at what you were doing, and obviously Darren was after you get over a certain hump you just catch certain momentum, but technically you got 17 stores in what, 22 years? Something along those lines.
Quinton:
Yeah, about that.
Mike:
Yeah.
Quinton:
Yeah. It's funny because a major part of that is we actually have two other businesses that aren't under the Ward Tirecraft banner. We have our wholesale division, which is Ranger Tire, and then we have a retread plant which is Enviro Tread, which basically just help feed our 17 locations. But Ranger Tire was a big part of why we grew the way we did, is we supply stores with tires long enough, and then for whatever reason they wanted a partner or sometimes they just want to sell completely, Darren just happened to be connected to the right people as things went along and slowly would acquire a store here, a store there.
That's why we have stores all over Alberta. It's definitely our biggest presence. We got a couple in Edmonton, but we have one in Drayton Valley, it's a town of 7,500 people, and then we have one in Lloydminster, which is 97 hours away from Calgary. I joke, if Lloyd's listening to this or if they [inaudible 00:17:02], don't come for me. We love you guys up there, but road trips when we got to make it to that store, it's a trek for sure.
Mike:
[inaudible 00:17:13].
Quinton:
Yeah.
Mike:
What's your future growth plans? Are you still going to… Well, will Darren and you guys continue to expand or do you feel like you're going to fill in holes with the geography you've got?
Quinton:
Yeah.
Mike:
Are you going to new territories?
Quinton:
We talk about BC, it's a big market, it's right next door. Canada really operates in, there's a western Canada, there's an eastern Canada, even within a lot of the big banners. [inaudible 00:17:48], Fountain, TireCraft, which is what the banner we associate ourselves with, there's actually Tirecraft east and Tirecraft west, and so just… We already have a warehouse set up in BC, and man, has that ever evolved even because of COVID. We had containers of tires stuck in port during COVID, and I ended up… We stored 20,000 tires in my friend's farm just outside because you couldn't find a truck trailer. It led to us opening up another little sub-business. We bought a truck and trailer just to get our own product around.
Mike:
Wow. Yeah, that's amazing. Well, we are actually coming up on our hard stop here, but I'm curious, going to ask you another real tough personal question here, but what's your all-time favorite place to visit?
Quinton:
I'd say-
Mike:
[inaudible 00:18:44] like to go further north in Canada?
Quinton:
I'd actually like to visit Alaska sometime, just because that territory looks cool, but I definitely think I'd try and make sure it's in the summer months. But yeah, this one should be pretty obvious. I was lucky enough, I went to college down in California, and so that place is like a second home to me, especially because the weather, especially in the Coachella Valley, is much friendlier in the winter months, so it's a nice place to escape to. I go there on a regular basis, so I would say that's probably the number one, but my favorite place of all time was probably Hong Kong. It's a really cool city.
Mike:
Oh, cool.
Quinton:
Yeah.
Mike:
Yeah. I'm sure it's changed a lot since the takeover and everything, the way it's gone.
Quinton:
Yeah. Yeah, I-
Mike:
Have you been back since?
Quinton:
No.
Mike:
Yeah.
Quinton:
It's only flights out there take seven days and cost a bajillion dollars, but yeah, I think about it a lot actually when I see stuff on the news of how much different it might look out there now that mainland China has full control again.
Mike:
And you read about the… I know they had protestors just a couple years ago, whatever, they wanted to retain their freedoms and it doesn't look like it's going to hold, so [inaudible 00:20:05].
Quinton:
Yeah, and I was… I actually taught English there for several months and I followed that whole situation pretty closely, because it was its own special administration region, is what they call them over there, so Taiwan, Macau, where I actually taught, which is the Chinese equivalent of Las Vegas, there was a Sands casino there that was seven times the casino in Las Vegas, but it was very westernized. It was crazy to me that on a Friday the markets would close and you'd look around and there'd be 1,000s of white people in the middle of Asia. And one of the first times I tried Guinness was in an English pub in Hong Kong. English guys sitting all over watching football, football jerseys up on the wall. You think you're in England and then you look outside and you see a bunch of Chinese people.
Mike:
[inaudible 00:21:03] that's kind of appropriate. They controlled it till what, 1999? Yeah.
Quinton:
Well, yeah, and that's the thing, is so-
Mike:
[inaudible 00:21:10] it is funny though. You're in a major Asian city and that's what you're encountering.
Quinton:
Yeah. Well, and it was cool… They have this district called Lan Kwai Fong there, and it's basically 14 square blocks and it's pretty much in exactly a square of just restaurant and bars, side by side by side, so barhopping never made easier. There was an authentic Mexican tequila bar.
Mike:
[inaudible 00:21:38].
Quinton:
There was a pizza place that I liked to go to because it was actually western, more western-like pizza. I made the mistake of ordering pizza in my apartment one time and I ordered Hawaiian, because I'm like, "How can they screw that one up?" And it showed up with 1,000 Island dressing as the base, and I'm like, "What is going on here?"
Mike:
That is [inaudible 00:22:05].
Quinton:
Luckily… Yeah, luckily one of my colleagues was dating one of the other Chinese teachers, so pizza night became whenever she was over, and they were hanging out on a Friday or a Saturday, we'd sneak over and politely ask her, "Hey, can you order us pizza so they don't destroy it?"
Mike:
That's awesome.
Quinton:
[inaudible 00:22:28].
Mike:
Well, listen man, Quinton, I appreciate you being on Gain Traction, it's been a blast. I think I could talk to you all day. We could [inaudible 00:22:35].
Quinton:
Yeah. The time flew.
Mike:
Yeah, it did, and appreciate you coming on, and maybe we'll get you back here in the future and go on another couple topics.
Quinton:
Yeah, sounds good. Thanks for having me, Mike.
Mike:
Thanks for being our first Canadian guest.
Quinton:
Hey, no problem. Happy to be.
Mike:
Yeah, you represent them well. To all our listeners out there, thank you for being part of the podcast. If you'd like to recommend a guest to us, please don't hesitate. Email me at [email protected]. Till next time, everybody be safe and have a great day.
Announcer:
Thanks for listening to the Gain Traction podcast. We'll see you again next time, and be sure to click subscribe to get future episodes.