Communicating With Customers About Car Repair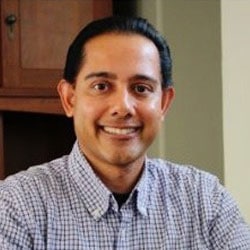 Chan Patel is Vice President of Sales and Business Development at Autotext.me. His passion and energy is focused on making autotext.me the leader in digital inspections and workflow solutions for the automotive industry. The company has been experiencing record growth — Chan's deep experience and proven track record has been the catalyst behind that success.
In this episode…
As an owner or manager of an auto repair shop, do you find it frustrating communicating with your customers about recommended service after they've dropped their car off? Do they take forever to return your call? Do they trust you when you recommend certain repairs? If these are questions you can relate to, you don't want to miss this episode of the Gain Traction Podcast!
In this episode of the Gain Traction Podcast, Mike Edge welcomes Chan Patel for a discussion about the multiple ways autotext.me can make communication between auto repair shop owners more detailed and efficient while increasing the amount of trust a customer has in service recommendations. Chan tells Mike where the idea for autotext.me came from and how it gives customers the confidence to succeed. Tune in!
Here's a glimpse of what you'll learn:
Chan Patel explains the three pillars of autotext.me that help shop owners overcome challenges
How autotext.me allows car repair shops to keep customers updated on workflow without the need for a call
The secret sauce to taking a shop from $1M to $2M status
How using text messages has given shops faster customer response times
How autotext.me helps facilitate trust between customer and the repair shop regarding service recommendations
Where the idea for autotext.me came from
How autotext.me gives its customers the confidence to succeed
Resources mentioned in this episode:
Transcript
Announcer: Welcome to the Gain Traction podcast where we feature top automotive entrepreneurs and experts and share their inspiring stories. Now, let's get started with the show. 
Mike: Hello, I'm Mike Edge, your host of the Gain Traction podcast where I talk with top tire and automotive business leaders about their journey in this industry. I'd like to give a shout-out to Ryan Linhart, Owner and Vice President of Operation at Fat Boys Tires and Auto in Wyoming. Great guest last time on the podcast and a great company with a very cool name. This episode is brought to you by The Tread Partners. The Tread Partners, we provide digital marketing for multi-location tire dealers and auto repair shops by using our industry knowledge and digital marketing results driven by experience. We help shops sell more tires, increase car counts, and increase average repair orders. So, what are you waiting for? Look us up at treadpartners.com. 
My guest today is Chan Patel. Chan has been the driving force behind autotext.me. Tire, consumer, and repair pile success. Currently, he's focused his passion and energy on the growth of autotext.me. As their Vice President of Sales and Marketing and Business Development, Chan aims to make autotext.me the leader in digital inspections and workflow solutions for the automotive industry. autotext.me clients are some of the nation's best auto repair shops, which include names like Christian Brothers Automotive, AAA locations, and many tire dealers. Chan's deep experience and proven track record have been the catalyst to autotext.me record growth rate. He entered the world of automotive in 2012 as the Director of Sales at Repair Pal. During his tenure there, he visited 600 plus auto repair shops in 30-plus states. With his leadership, they built the largest trusted network of auto repair shops in all 50 states. He consistently doubled sales and delivered record sales throughout his tenure. 
As the sales leader, he also secured many partnerships with industry leaders, which include Bosch, Tech Neck, which is an advanced auto parts company, and Precision Tune Auto Care, a car icon acquired company. Building energetic, vibrant sales teams while accelerating growth and [inaudible 00:02:34] product offerings has been key to the success for Chan. Chan, it's great to have you on the program. Welcome.
Chan: Nice to be here, Mike. Thanks for the opportunity. 
Mike: Yeah. I was excited that you wanted to be on the program. I think it'd be great for our guests to know a little bit more about autotext.me, how you came to be, and how you got there.
Chan: Absolutely. So, autotext.me is built on based on listening to shop owners' challenges. There are three main pillars at autotext.me. Number one, we help shops streamline communication using two-way texting and customizable digital dashboards, often referred to as the Domino's Pizza Tracker for auto repair. Two, we help shops educate clients on the help of their vehicles using pictures and videos. Shops build trust, increase repair orders using our best-in-class digital inspections. And lastly, we focused on the experience, helped shops build their online reviews, make it easy for clients to book online appointments, make payments using text to pay. At the end of the day, we are a business enhancement tool helping to focus on-
Mike: Hey Chan, tell us a little bit more about, you mentioned Domino's Tracking Tool. You've given me a walkthrough, so I've seen it, but let's try to create a visual for the listeners out there with their experience in maybe ordering online with Domino's. 
Chan: Absolutely. If you think about the service industry, the moment they walk in, there's a clock happening. Most of the time these days, consumers are running errands, they're often between jobs or tasks, and they want to get updated along that journey. They don't want to call. So, what we've done is basically allowed the shop owner to create their workflow. Now we got shops that have intricate workflow, some have a very simple workflow. Cars being checked in, technicians examining it, maybe an estimates and process, digital inspections completed, send them a payment link, maybe the quality control portion is being handled, and then car's complete. 
The way we can create this digital dashboard is we can make it easy for the shops and have automatic updates along this journey. On the consumer side, who doesn't like to be updated where their car stands, if there's a question you can quickly text the client, the shop, and make it easy for them. At the end of the day, this digital dashboard that's customizable on the shop owner's perspective is not only helping inside the shop creating efficiency and productivity assets, but also helping the consumer.
Often referred to as the Domino's Pizza Tracker, I'm not sure if you ordered Domino's guys, but I look at it and I see many similarities.
Mike: Yeah, and speaking from my own experience of seeing it on the walkthrough with it, it's exactly like the Domino's Tracker if you've ever ordered pizza from them. What is cool, Chan mentioned that you can basically, if you're the auto shop, you can make that tracker as long as you want and covering as many details or you can make it cover as few of details as you want. Either way, from a communication tool internally and externally, it's a very good visual to see where your car is in the process. 
Chan: We have some shops that are ultra-efficient and focused on workflow, and sometimes I consider that to be the secret sauce in taking a shop to a million dollars to two million dollar status, is the ability to handle more repairs, the ability to move faster, and the ability to communicate within the shop internally. So, internal communication is just as important as external communication.
I've had shops take a big-screen television, flip it around on the inside, and they're looking and have a visual dashboard. No longer do we need to disturb that Service Advisor that kind of holds the key and the knowledge base. Everyone at a glance can either be on the phone or their table or their desktop and they can see exactly where that car stands, what's the next step, and if they need to communicate to their partner. So, definitely focused on that teamwork atmosphere.
Mike: I was just thinking with your tech out in the bays or your mechanic, they don't have to run back and try to explain something or tell you where they're at or whatever, it's all there.
Chan: Absolutely. 
Mike: Yeah, big time saver. Auto Text for the long term, where do you guys see yourself long-term growth, etc.?
Chan: It's a wonderful time right now. Even before the pandemic, people realized that they need to move faster, create efficiency, and build the tools within the shop to help technicians, specifically Service Advisors sell more repairs, communicate in a more consumer-friendly fashion. I just read this stat the other day, 95% of all text messages get read in less than a minute. I can only imagine what the millennials are doing. The phone's literally joined to the hips. 
Mike: Really, it's 95% less than a minute, huh?
Chan: Yes. That is the most preferred way of communication regardless of any age. We have lots of shops that tell us that they were hesitant to implement a texting technology, and not only have they found that they're getting faster response times, but people actually communicate and enjoy that experience. I can be in a meeting and I don't have the permission to step outside, but I can certainly glance at my phone and give you a quick update. Now if I have the ability to send you a picture of what needs to be repaired or ask you a question, I'm getting faster response time. As a shop owner, who doesn't love that, reduce that bay time?
Mike: You're also, if I'm not mistaking Chan, when I remember you walking me through it, you also have the ability to save the services that you may have recommended today, but they're not absolutely necessary. So, based on somebody's budget they don't want to spend that money today, but they still need that service probably within the next 30 to 60 days. You have the ability to set it up to reach back out.
Chan: Absolutely. We call this a rainy day folder. We call it the ability to follow up automatically on declined services or deferred work. Let's say you walk into my repair shop, I recommended to you repairs, you said, "Chan, let's go ahead and take care of one, but I have two outstanding." Now we can let the system automatically ping you in a nice little fashion with a picture or video, a recap of, "Hey Mike, you have two outstanding jobs." You can trigger that follow-up for three weeks, four weeks, six weeks, a month, or two months. The system is automatically kind of bringing them back in and reminding them what needs to be done. 
We know the tendencies, right? Most additional service recommendations, as soon as you walk into a repair shop, you've kind of prepared yourself to saying, "Not necessary. I'm not going to go with it." It's a lack of communication and trust that we now really just break down and using our tools, digital inspections and videos and animation clips of what the power steering repair is all about, you're educating consumers and you're helping them make correct decisions.
Mike: I love it because, look, I've gone to the car dealership service side and they just overwhelm you with repairs and things you need to be doing for your vehicle. Then I might take it to a local shop and get a contrast and they're like, "Yeah, you don't need to do these other three things, but you definitely need to do this one or two items now." Then you realize … but those other items, it's not like they don't need to be addressed sometime in the future, it's just not urgent. I think having that trust and that communication allows you guys to keep somebody on the phone line in a sense. You're still communicating with them, it's just not necessary today. It might not even be necessary for another 90 days, three months, four months, maybe five or six months. 
The reality is, you're not having to consciously remember or be reminded to call them. You set it up that way once you've identified the issues.
Chan: This is where technology works with you not against you. It's that second, and we have some AI features that we're definitely excited for. Even at night, if you're to go on and type in a question what time your hours are open, the AI is going to automatically fill in those questions. We have that sort of third hand already working there at the shop level. Anything to help build trust and transparency is huge. Anything relating to service industry, from my experience, I've seen shops across the board utilize technology in that fashion and grow their numbers.
Mike: I think it's really cool, Chan, that you've been in, in past experience, but you've been in 600 plus auto repair shops across 30 states. You have a whole different perspective than just the guy that's running one shop and maybe he's in a 20s group or something. You've seen 30 times more shops than he has in a sense, if those 20 groups get together. You've really got a good perspective I would say on the market and the need, and that's how I think your input probably was significant as Auto Text continually adapts.
Chan: It's been a privilege. Number one, the last 10 years have allowed me the opportunity to visit many shops and states. I've seen all sorts of different types of repair shops. Some of my favorite experiences, my closest friends these days, are the shops that kind of just got started because their father or grandfather owned a repair shop so they kind of fell into it. But little did they know, now they're taking it to another level, adopting technology, using some of our recommendations, and we also at Auto Text, we always believe in bringing the best solutions to the light of shop owners. We almost became a consultant in many fashions. Now to see that shop owner on their seventh location and to see that success just really warms our heart.
Mike: I think this helps people, too. I know a little bit about the story, but tell our audience where did the idea for Auto Text come from?
Chan: Our founder Chris Cloutier, he worked at Southwest Airlines and his brother happened to own a repair shop as well, so they both decided to open a repair shop in Texas. He quickly realized that there is a gap in the model there. The communication between the Service Advisor and the technicians and the communication with the clients, and he was pretty early in the concept. If you think about it, 2010, 2012, texting wasn't mainstream yet. Now it's automatic, but during the day he thought of the technology and he figured that this would be a great way to communicate and it turned out not only to be the preferred way of communication, but it just gained traction. Along the way built the workflow concept, digital inspections, quality control, and we've added some marketing features in helping to get reviews and so forth there. It's become a whole nother product, a lot more than the name entails. 
Mike: Yeah, and that's one of the reasons why I wanted you to back up there a little bit because I do believe the name almost feels limiting now. In the beginning you couldn't foresee how broad your service could reach from using texting as just the tool. There's so much more.
Chan: It's almost a starting point, right? Then it's built upon that. Technically we're known as software status solutions, but that's just a little bit harder to roll off the tongue. autotext.me is just clicking. We believe that we'll keep on enhancing the service and building on that texting technology. 
Mike: What do you hear from your customers? What's the biggest value that you think you provide them? If you had a customer sitting here today, what do you think they would say that you've given them? 
Chan: We've given them the confidence to succeed and we take a different approach. We do have a two week trial offer, but it's not one of those where you just kind of hand them over the tool and expect them to figure it out on their own. Our trained department, and I think this is the secret sauce along with our support team, our trained team has that experience of owning a shop, working inside shop with technicians, turning the ratchets, truly understanding what it takes to implement a technology into the mix. That is a big challenge. Shop owners can understand the value and reasoning why they want to implement a product or service, but we've designed from a technician perspective. Less clicks, very easy to adopt, and then the training is super important, making sure that … 
We have a three-step process. It's like a baby. You crawl, you walk, and then you run. I've seen shops that have told me that, "My technicians don't even text on their phones and within three days, they've adopted, they're using, and they're thriving and they're not looking back." 
Mike: That's great. I just lost my train of thought. I had another question for you. Let me ask you this, on your growth for '22, where is your outreach right now? How do you go out to the market right now and well, let's tell people too, how can they find you?
Chan: autotext.me is the website. Our contact information is listed right there, so feel free to check out our website. Click on the button to request a demo or call us in sales. We believe there's amazing opportunity, if all the numbers show, there's about 100,000 full-service repair shops out there in the states. We do also work with Canadian shops as well. The ability to adopt a healthcare report using digital inspections, two way texting, text to pay, these are features that were probably in a board and it looked nice and would be a nice kind of thing to have, but in 2022 this is now become a necessity. It's almost like when you walk into a coffee shop 10 years ago and you're like, "Oh, it has wifi. That's nice." Now, if you walk into a coffee shop and it doesn't have wifi, you're going to walk away. We've had clients-
Mike: That's a thing.
Chan: Go to a, I'll give you a Christian Brothers example. If you go to a Christian Brothers Automotive and they're just amazing organization. We work with every single one of them. They get a digital inspection report, a healthcare report, then they move and they go to another location and they'll go to a ABC Repair Company and they're like, "Where's my healthcare report?" They're asking for it and they're saying, "What do you mean by that?" Then we get leads from that. We love that opportunity, that consumer awareness. So consumers are now asking for that. I think there's opportunity there for us to reach out to the other shops in America, for them to know that this is an easy technology. You don't need to switch a shop management, you don't need to take great efforts, but you can definitely start texting. You can definitely start implementing the ability to offer text to pay, the ability to get online reviews, and let's enhance the experience internally by creating digital dashboards then sharing with consumers what the health of their report is using digital inspections.
Mike: Awesome stuff there, Chan. Let me ask you a real softball question here. We're going to wrap things up. What is your favorite movie?
Chan: Wow, too many to name here, but I am a movie enthusiast. The first movie that comes to mind, being a kid of the 90s, I grew up going to A's games and watching the A's win those championships. When I read the book Moneyball I was taken back and this last week when I introduced the movie to my daughter, who we happened to go to our first A's game last year as well. That movie now has a special meaning for me. As a business perspective, I always find that the concept of what Billy Bean did and the strategy he used can be applicable to business as well.
Mike: Well, I absolutely love the movie. I thought they did a great job with it. Even though you know the outcome in a sense, they get so far into the weeds of … The way he negotiated for players, the way they looked at value, what he had to do and staying in a budget, it was truly breakthrough, but think how gutsy it was, too. My gosh, his whole [inaudible 00:19:48] staff just thought he was losing his mind.
Chan: I have a quote here I keep and I'm looking as I'm speaking to you. It's applicable for everything. "Managers tend to pick a strategy that is least likely to fail rather than pick a strategy that is most efficient. The pain of looking bad is worse than the gain of making the best move." 
Mike: Oh man, that's interesting. 
Chan: [inaudible 00:20:12] The art of winning an unfair game.
Mike: It almost goes with a quote my dad used to say. My dad was very competitive and he could easily tell if someone was trying to win or if they're trying not to lose. That's significantly different. The movie itself, it's interesting you picked Moneyball and the stats and the things like that, because I think autotext.me provides that type of data, that security, that comfort, and it's a heck of a lot easier in the auto world than it is on the baseball diamond. I highly recommend our audience to check out autotext.me, visit the website. It may be a great tool for you and the information contact, Chan's on the site.
Chan: Appreciate it, Mike.
Mike: Absolutely. So Chan, I want to thank you for being a guest on Gain Traction podcast again. I want to thank all our listeners. So, till next time on Gain Traction, stay safe and look out for one another. Thank you very much.
Chan: Take care. Thanks. 
Announcer Thanks for listening to the Gain Traction podcast. We'll see you again next time and be sure to click subscribe to get future episodes.