Creating a Work Happy, Values-Based Culture with Marc Pons of Chapel Hill Tire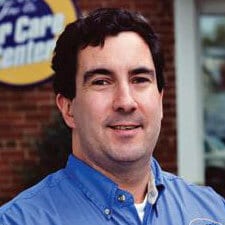 Marc Pons is the President of Chapel Hill Tire, a multi-location tire dealer based in North Carolina. Thanks to Marc's leadership, Chapel Hill Tire has become one of the nation's premier tire shops by focusing on its customers, staff, and core values.
Chapel Hill Tire was founded in 1953 by Sion Jennings and was purchased in 1964 by Marc's father, Al Pons. Marc worked in the tire shop as a teenager but began his professional career as a Sales Assistant for Chase Manhattan Foreign Exchange in New York. When his father unexpectedly passed away in 1996, Marc moved back home to help operate the family business and has been successfully growing the company ever since.
In this episode…
Hiring and retaining employees today seems more challenging than ever. How can you create a work environment where employees can grow and thrive and customers are guaranteed to receive excellent service?
Marc Pons, President of Chapel Hill Tire, recommends taking a good, hard look at your company culture. Too often, CEOs are so hyper-focused on the bottom line that they neglect to refine their company's core values. When you take the time to invest in your employees' professional development, you'll find that they'll give back tenfold what you pour into them — and customers will feel the difference.
On this episode of the Gain Traction Podcast, Neal Maier sits down with Marc to discuss how he has cultivated a "work happy" environment for Chapel Hill Tire — and how you can do the same for your business. Marc talks about the training programs he developed for his employees, why culture is more important than numbers, and the core values reflected in every aspect of his business.
Here's a glimpse of what you'll learn:
Marc Pons describes his roots in the tire industry and why he decided to take on the family business
How Chapel Hill Tire inspires a "work happy, drive happy" environment
Why Marc decided against laying off employees during the pandemic
Marc describes the program he built for employee training and development — and how it has paid off
Why Marc focuses more on culture and less on numbers
Marc describes the systems and core values that have helped Chapel Hill Tire grow
Marc shares advice for fellow entrepreneurs in the tire industry
Resources mentioned in this episode: