Culture Eats Strategy for Lunch With Kim McMahon, President at McMahon's Best-One Tire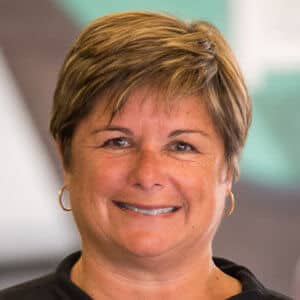 Kim McMahon is the President of McMahon's Best-One Tire, which has five locations, one distribution center, and one retread facility. She is one of just a few top female executives at tire dealerships in North America and recently won the Humanitarian of the Year award from Tire Business Magazine. She has a banking and financial background and believes culture is more valuable for a company than strategy.
In this episode…
What's your strategy when your business expands, adds locations, and enters new markets? What about your process when it comes to implementing new services? Is strategy the most important thing, or could your company's culture trump your strategy? For great insight on this topic and more, check out this episode of Gain Traction!
According to Kim McMahon from McMahon's Best-One Tire, getting your team members to buy into your actions is more important than strategy. She has a sign in her office that states, "Culture eats strategy for lunch." The executive committee at McMahon's Best-One Tire, Kim says, is committed to getting the right culture for the company before it worries about anything else.
On this episode of Gain Traction, Kim joins Mike Edge for a wide-ranging discussion about being a female working as a top executive in the male-dominated tire industry. She talks about her transition to a family-owned tire shop after 17 years in corporate banking, her obstacles, and the importance of building the right culture in your organization. Regarding strategy, Kim says, "if you don't have the people that buy into what you're doing, it's not worth anything." Don't miss it!
Here's a glimpse of what you'll learn:
Where Kim McMahon went to school and why she chose to study finance and banking
The learning curve that comes with transitioning from working at a corporate bank to managing a family business
Why the entrepreneurial spirit of her father-in-law caught Kim off guard when she started working for him at McMahon's Best-One Tire
What Kim likes most about working in the tire industry
The biggest hurdles Kim has faced while working in the tire industry
Why Kim believes that in business, "culture eats strategy for lunch."
Resources mentioned in this episode:
Transcript
Announcer:
Welcome to the Gain Traction Podcast, where we feature top automotive entrepreneurs and experts and share their inspiring stories. Now let's get started with the show.
Mike Edge:
Welcome to the Gain Traction Podcast, Mike Edge here. I am the host of Gain Traction, where I talk with top automotive business leaders about their personal experiences in the tire and auto repair industry, as well as extract some words of wisdom. Before I go too far, I want to get into a topic that I think is very important to our industry. It's called Right To Repair. If you don't know about this issue, please get educated. At the end of the day, if we in our industry don't have right to repair, then independence will be driven out of business, and everything will be controlled by manufacturers of products. And we will not have the opportunity to repair or fix products, because the information will be withheld by manufacturers whereby, they are the only ones that will dictate who can repair their products. So if you don't mind, check that, you can go online and can find an enormous amount of information, but it's right to repair.
It's being battled basically on a state level and a national level, and whatever you can do in your state would be very helpful. This episode is brought to you by Tread Partners in the ReTread program, Tread Partners has a theory that your best audience to acquire additional revenue for this month are customers that you've already sold to. Tread Partners has designed a product called ReTread that is a full scale customer re-engagement program to win back a shop's best, lost customers. It is a one-time, 90 day program that generates a guaranteed 10 to one return on investment. That's correct, 10-1 guaranteed ROI. So basically there's no tricks or gimmicks. These are your customers. They're already in your point of sale system. So what we're saying is if you invest $10,000 today, you will receive a return of $100,000 in 120 days.
We think our 10-1 is better than any shop can do for themselves. Visit treadpartners.com to learn more. So my guest today just won the 2022 Humanitarian of the Year Award from Tire Business. She is one of only a few female top executives at tire dealerships in North America. She is President of McMahon's Best-One Tire Auto Care, in Fort Wayne. They operate five locations, one distribution center, and one retread facility. She came from a banking and financial background, and she operates with the company from a philosophy of culture eats strategy for lunch. Kim, welcome to the Gain Traction Podcast.
Kim McMahon:
Thank you so much.
Mike:
Congratulations again. What a big award. And prior to this recording, we talked about what a great writeup in Tire Business.
Kim:
Yeah, that was amazing. It was much more than we expected, and we are incredibly humbled by it.
Mike:
Well, you've got a lot to be proud of. It looks like a great organization. And I tell you, I'm going to get into your finance and banking background, because I think it's such a great asset to this business. It's intriguing what you brought to the table, I'm sure, for the family business. But before I go further, where did you grow up? Where'd you go to school? And then, what made you choose finance and banking?
Kim:
I grew up in the northern suburbs of Chicago, a town called Lake Forest. Grew up there, went to high school there, and then left to go to Valparaiso University for college. And then after I graduated, I met my husband at Valpo and we were both finance majors. So he obviously got a job before I did, so I ended up in Fort Wayne.
Mike:
All right. Our world's collided a little bit. My mom went to school in Lake Forest at Bear College, back when it was open.
Kim:
My mom did too.
Mike:
Oh really? Well, we'll talk about that after the program. That's great. So when you ended up in Fort Wayne, did you just get into a banking institution, just a local bank or something like that?
Kim:
Yes. That was what I always wanted to do. When I decided to go into finance banking was what I wanted to do. Specifically, I wanted to work in the trust department. And so, when I started working there, I started in a management training program. And then, when I got to the trust department, I ended up staying there. I only got a couple weeks into it.
Mike:
And then, how long were you at the bank before you ended up in the family business?
Kim:
I was there for 17 years.
Mike:
Oh wow. Yeah. You really had a career there.
Kim:
Yeah. It really didn't have an intention of leaving. The bank got sold and they outsourced the trust department to Indianapolis.
Mike:
And I think everybody can relate with that. We've all seen banks just get acquired over years and consolidate, et cetera. So yeah, we've all seen that story before. Well, it sounds like you found a home and maybe didn't anticipate getting in the family business, but you sure have taken off well in it.
Kim:
There was a big learning curve going from a pretty large company that was pretty corporate, to a family business where everybody's looking to you to make the decisions. It's a little different.
Mike:
Yeah. Well, there's no real guidelines, right? You had to generate them.
Kim:
Yes.
Mike:
Well, what do you like about it, now that you've been in it? Because you started in the family business, McMahon Best-One Tire in 1999. Is that right?
Kim:
In 99, correct. Yeah. I started working for my father-in-law, and he's the one who started the company. So I-
Mike:
And that was in '69, 1969?
Kim:
In '69, correct. So I started working with him side by side. And so, that's where I learned everything, but he has a very different way of doing things than I do. And so, it was great to learn that, but he's very… Obviously, he's been in the business forever, so he was like, "Oh, it's close to this. Oh, we can do about this." where I'm very like, "No, it's… No. Right to the penny." But it was a good way to learn, and he's fabulous, but when he-
Mike:
Well, I guess the best thing you probably got from him was that… I always liked the guys that started, they had that entrepreneurial spirit, and they might be a little looser on the details, because it's all about, "Hey, we got to make this happen."
Kim:
Absolutely. 100%, people underestimate how important that is, having that entrepreneurial spirit and having that… I didn't grow up with that. I was like, "Wait, I don't know that even means."
Mike:
Well, I get a kick out of it, because they don't care about the math so much, "Hey, it's going to work." And you're looking at it, "I don't see it coming together here."
Kim:
100%, he's like, "Oh, you can sell yourself out of anything." And I'm like, "Ah, no, you can't." "Yeah, we've done it for years."
Mike:
That's awesome. Well, I think I laugh so hard, because I think of your perspective coming into that and you're like, "Whoa, what's going on here?"
Kim:
It was a real eye opener.
Mike:
Yeah. So how many stores… You guys had, what, three locations at that time when you started?
Kim:
When I started, we had three locations, and we had one truck center, and then two retail stores. And so, now we have, what do we have? We have one truck center, two truck mechanical, and five retail, a retread shop and a distribution center.
Mike:
Oh, okay. So are there any overlaps? Are they in the same locations or are these all separate?
Kim:
There's one that is both a retail and the mechanical, the truck mechanical, they run out of one pretty large location.
Mike:
Okay. So you guys have quite a few locations then, compared to when you started?
Kim:
Yeah. And it's been mostly in the last maybe five years, six years. So since 2018, we've added four stores.
Mike:
Now I know a lot about the Best-One brand. Did you guys acquire other Best-One people, or did you buy totally other-
Kim:
Our store in New Haven, the one that's the commercial and retail, we acquired that one. And then our newest one that we just purchased in August or September, it was also a Best-One.
Mike:
Okay.
Kim:
The other ones-
Mike:
Well, I know it's a pretty tight-knit group, and you guys are almost next to home base up there, aren't you, with the Zurchers and Monroe and, yeah. So that relationship goes back a long way.
Kim:
Yes, a very long way. Paul was… Yeah, he was a real mentor to me, and he really supported us so much. And the family continues too. They're just fantastic.
Mike:
Well, I've only had a chance to meet a few folks from the family and then other folks that have been partners with Paul. I never got to meet Paul Sr., but I did read his book. I don't know if you've had a chance to do that.
Kim:
Absolutely.
Mike:
Wow. What a story. I recommend it to anybody. I'll throw out there real quick, those that are listening, Where the Rubber Meets the Road: Nine Proven Principles from the Life of Paul Zurcher. And it is a phenomenal story. I mentioned to you that I like biographies before this recording, but it's a great one. You go all the way back to World War II or when he grew up, and then how he came back and just is a different era for sure. And his vision for the way he created the relationships is just so unique.
Kim:
His kids and his grandkids have carried that on as well.
Mike:
That's awesome. I can see that too. So back to your story. So over the last 22 years, 23 years, what do you find that you like most about the industry now?
Kim:
Oh, I think that's interesting. That should be easy, right?
Mike:
Yeah. Well pick one thing. For instance, what I thought was really cool about, you mentioned this, I think in the article I read that you spend 12 days a month on the financials for the whole business, all the locations, et cetera. I think that's such an asset to this industry, because there's a lot of guys like your father-in-law, they're grinding and working every day. And I'm not saying the books aren't neat, but they're not as clean as you've got to be doing it. And so, your background and that being the way you're wired has got to be a huge asset to the company.
Kim:
I think that's true. I think that's an important part of it. But I think the other 12 days where I'm out seeing, talking to the employees and going to the stores and things like that, is probably just as important to the store. Because I think that we're a relatively small company, and it's important that the employees see us out there working and interacting. And that's actually a real challenge for me, going from one extreme to the other, because I'm much more comfortable sitting behind my desk and doing those financials and things like that. The other part of it is not as easy for me.
Mike:
But you brought a value to the situation. I know when I read that article too. And so, I've been doing this 20 some odd years, and I remember going into… I don't know, all the lobbies I've been into, and it makes a difference. If it's comfortable and it feels like home, the couches, coffee, WiFi, et cetera. You're more inclined to get every type of customer. Nobody likes dirty. You know what I mean? And when I grew up, and probably the same for you, it just seemed like any shop you went into, it was just grimy when you were younger. hey, it was just a shop. We fixed cars, we put tires on, who cares about the lobby? But now, it's like that Chick-fil-A experience. You got to have a nice experience. The bathrooms have to be clean, and you got to make people [inaudible 00:13:38], because they may be there an hour or a little bit longer, waiting. And I think what you did was probably bigger than what people expected at that time, but remove the tires out of the lobby. Get rid of the smell.
Kim:
My father-in-law was just in the store yesterday, and he was like, "So, still don't have any tires in here, huh?" "Nope. Still, don't." It drives him crazy.
Mike:
That's funny. Well, my boss, he used to own some stores and he said that the biggest thing, he always got a kick out of this, but he said, "Look, we were known for our mechanical work, but we sold tires and tires was in our name." He said that people would come in and they could be leaning on tires and ask me, do you guys sell tires? And he'd be scratching his head, what else do I have to do to make you convinced that we… ? So I don't think it matters that they're not there.
Kim:
And I guarantee you people notice, whether it's that they notice that the smell isn't there or it's just a cleaner look, they notice.
Mike:
Yeah. Well, I'm not going to mention any names, but I remember the one that I grew up going to, and they had stacks of tires in the lobby, and the lobby was big. You could have made it very comfortable in regards to… They used it almost like a little mini storage area. It was neat. Everything was stacked up neat, but you had to walk around tires. And as a kid, I didn't care. I actually liked the smell.
I'll make an admission here. I was a kid. I liked the smell gasoline. When you grow up around it, you had that nostalgia with it or whatever. But as I got older, and then when I got in this industry and I would go visit clients, I remember being in Nashville one time, and the first super nice lobby I'd seen was a group down there and the guy owned four stores. And I thought, "Man, this is it." And that was quite a few years ago, but I remember thinking, "This guy's figured it out." And you could tell because the women in the place and the customers, everybody was just comfortable. It was almost like they were just hanging out.
Kim:
When we put in the Keurig coffee machine, however many years ago, that was a big deal. People were like, "Okay, wait a minute. How do you even work this thing? What is this?" But they loved it, because it was like, you're in your kitchen and you can just have a cup of coffee and sit down and relax. And people have really appreciated that.
Mike:
And I can speak from the perspective that even those little things, it's weird, but they do affect where you want to go. If you know you got to sit somewhere for 30 minutes, an hour or whatever, it affects your decision. So you have the coffee machine there, or a popcorn machine or something. It affects the positive aspect. I think you make that decision. You might not directly relate it to it and say, "Oh, they got a great lobby, they got this for me, or whatever." But that, since you've already been there, so you just instinctively give yourself something to look forward to in the fact that you got to spend money. You're not happy that you got to get your car fixed, but hey, I get a nice cup of coffee and whatever else.
Kim:
Yeah, absolutely. Try to make it hurt not as much.
Mike:
What's one of the biggest hurdles you think you've climbed or crossed, or obstacles since you got in the industry?
Kim:
I hate to say this, but think it took a while for people to take me seriously. When I started, like I said, I was with my father-in-law. So like I said, I was in his hip all the time, learning. So people looked at me like, "Oh, that's Pat's assistant." When he retired and I became president of the company, it took a while for people to really take me seriously and listen to what I was saying. So I think that was really the biggest thing, and part of it, well, I think all of it being because I was a woman, it wasn't an age thing. Although, I was probably younger than some people. I wasn't crazy young, but I think having a woman in that position is just different.
Mike:
And I think you said it in the article best. You bring a whole nother dimension to the business. You may have not turned that wrench or changed that tire in the past, but it still doesn't affect… The reality is you still have to be good at customer service. You still got to provide the customer what they want, and obviously the employees, even prior to that, you got to make them believe.
Kim:
And I think that was an easier… Because they were used to seeing me and knowing that I put in a lot of hours and really trying to do things differently. And so, now all the guys that are, well, we actually have a couple women also, managers, look at me like, mom, and we take care of each other. And it's a totally different feel than if my husband were the president of the company.
Mike:
Well, I totally agree. And you're going to have a different… I don't know, you just, you're built to have a different empathy, probably. And they know that maybe, so like you said, they look at you like, "Mom, can I go to her and tell her I got this problem?" And now you got a track record, but you had what, you had nine years with your father-in-law, is that right?
Kim:
Yeah.
Mike:
And that was probably great leading into the experience to show, "Hey, look, I'm committed. I'm not just doing this as a job. I'm here to stay." And that's probably a big part of it. Is she going to be around for the future?
Kim:
Sure.
Mike:
And the when you obviously got that position, I'm sure it just was like, "Okay, she's going to be in charge now."
Kim:
Because she means it.
Mike:
So tell me about your family dynamic. Do you and Bubba have children?
Kim:
We do. We have two boys.
Mike:
Are they in the industry?
Kim:
They're not.
Mike:
Okay.
Kim:
No. So they both, don't even live in Indiana. One's in Wisconsin, one's in Maryland. Very happy doing what they're doing and don't think they're going to be coming back.
Mike:
Okay. Do you get to see them very often? Do they make it back.
Kim:
Not often enough for me, but yes, pretty much.
Mike:
That's the typical mom answer, right?
Kim:
I know.
Mike:
[inaudible 00:20:39] What are you going to say, right? No, I've got our a daughter that lives in North Carolina, and even though you got FaceTime, even though you communicate way more than the previous generation, but still, they're not there. So it makes a difference. One of the things that stood out to me is, you have this on your wall in your office is, culture eats strategy for lunch.
Kim:
Yep.
Mike:
You want to talk about that? Because I think that sounds awesome.
Kim:
We can sit for hours talking about what our strategy is, going into different markets or when we went into the mechanical side of things, but if you don't have the people that buy into what you're doing, it's not worth anything. And we have worked so hard at that and sometimes it feels like we go a little overboard or maybe that's what I tell my husband, because he is all about that. And all of us on our executive committee are all absolutely committed to getting the right culture for the company and making sure that everybody, all of our employees understand what that means. But that is bar none, the most important thing that we do, is making sure that all of our employees have that understanding.
Mike:
And it's fabulous. What I love about that, because I can hear it in your voice, the enthusiasm you have, but it's like it's contagious. And when you get that, it's that inertia effect. When you start that process, it's probably a little tough in the beginning. You got people to buy in, believe that you really mean what you say, then you got to back it up those times that adversity may hit the company or whatever, and you show them, "No, we're here for you guys still." And probably COVID was one of those examples. But I'd say the contagion of it is the best thing, because then you're not doing it anymore. Your employees are doing it for you, aren't they?
Kim:
Absolutely, and COVID was a great example of it, because there was a lot of places that didn't do so well during COVID.. Every one of our employees stepped up and we work together. I wanted what was best for them. They wanted what was best for the company, and it really brought everybody together in a way that I never would've foreseen. I hate to say that, but it was a really great bonding experience for all of us.
Mike:
Isn't it weird, the harder adversity, you have to have adversity to bring you together. Everybody gets along in what, the good times, but can you make it through the tough times? And then when you get through it, I feel like when you get through it, then you look at each other and go, "Oh, we did that. We made it."
Kim:
There were days that we would look at each other and be like, "I can't believe we made it through that day." Let alone two and a half years now.
Mike:
And then you're like, "Let's try to get one more day like that," right?
Kim:
Exactly.
Mike:
Oh man, and we still have the effects of it or whatever, but it's definitely the industry has had been on a good run since then and I'm very grateful for that and for everybody I know in the industry. Well, believe it or not, we're up against our timeframe here, but I'm going to ask you a really tough question here at the end.
Kim:
Okay.
Mike:
Just so people may get to know you a little bit better. What's your favorite hobby or hobbies that you like to do?
Kim:
Oh, well, about seven or eight years ago, I took up golf and I'm absolutely obsessed. So I don't even know if it's a hobby anymore. It's definitely an obsession.
Mike:
Did you say golf?
Kim:
Golf, yes.
Mike:
Awesome. Yes. So the bug has got you, huh?
Kim:
Oh my gosh. Yeah. We golfed literally last week. It's cold out, we golfed. It's great, we love it. We go after work, sometimes just my husband and I just play a quick nine after work. Then on Saturday or Sundays we'll play 18 and I love it.
Mike:
That's fabulous. No, it is a great sport for anybody. When I was a kid, I was fortunate enough, the Senior Tour came to my hometown and I had to play with this… I was going to this course and where they were playing and there was like, "Hey Mike, I need you to do me a favor." He said, "I need you to take this pro out, because the course is crowded and if he plays by himself, he's just going to get frustrated. We need to slow it down and I need you and your buddy to go with him." Well, my buddy who I just gotten to know, we're in our 20s and this is some work related thing I'm on, and I don't know that he's not that good and I'm not that good really. But I'd played enough to be comfortable. And I was like, "Dude", I was telling the pro, I go, "Don't do this to me, man."
I said, "We're going to look like idiots." And it turned out the guy that we went with was super nice, and he didn't start playing golf until he was 30. And he made the Senior Tour when he was 55 and he had been an engineer and he said, "I made enough money to step away for a while. I want to see how well I can do on the Senior Tour." And it was a great story. He taught us a little bit. He was full of energy and it ended up being a fun experience. It was one of my golf stories. But yeah, I would agree with you. It's a great sport.
Kim:
I love it. Absolutely. And then you get to go to all these cool places. We travel around and play these great golf courses. It's wonderful.
Mike:
Yeah, the scenery can be in incredible. Well, Kim McMahon, I really appreciate you being on the program. It's been a pleasure having you.
Kim:
Thank you so much. I appreciate it.
Mike:
Yeah. And to all our listeners out there, thank you for being part of the Gain Traction Podcast. If you would like to recommend a guest, you can email me at [email protected]. Until next time, be safe and have a great day.
Announcer:
Thanks for listening to the Gain Traction Podcast. We'll see you again next time. And be sure to click Subscribe to get future episodes.