How Core Values Enhance Credibility With John Repp, Sales Manager for Dunlap & Kyle Co.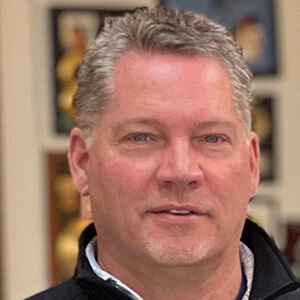 John Repp is the Sales Manager for Dunlap & Kyle Co., one of the leading tire distributors in the nation. John got his long-sought start in the automotive industry by taking a job at a National Tire Wholesale in Nashville, TN, while working a second job to make ends meet. He worked several roles with Bridgestone for nearly 20 years before joining Dunlap & Kyle.
---
In this episode…
What's the secret to building a long-term foundation of credibility for your business? Start by establishing core values and getting your team to buy in. According to John Repp from Dunlap & Kyle Co., his company's core values are ingrained into its culture. When team members come to work, they live by the mantras: Go Big, Champion Your Customer, Give a Damn, Get Your Hands Dirty, and Have Their Back. The mindset gained by upholding these values, John says, has yielded results that keep customers coming back.
On this episode of Gain Traction, John joins Mike Edge to discuss the benefits that come from implementing core values that are straightforward, recognizable, and verifiable. They talk about making core values a deep-rooted part of your company culture, reflected in internal and external relationships. John also praises the impact made by Dunlap & Kyle founder Bob Dunlap who, despite being over 90 years old, still comes into the office every day. Check it out!
Here's a glimpse of what you'll learn:
John Repp shares how the specific core values held by Dunlap & Kyle are ingrained into the company's culture
How Dunlap & Kyle fixes a mistake involving a customer
John explains why every company employee needs to care, from the heart, about individual and team performance
What does it mean to be willing to get your hands dirty?
How Bob Dunlap built and maintained a track record of success
Resources mentioned in this episode:
Transcript
Announcer:
Welcome to the Gain Traction Podcast, where we feature top automotive entrepreneurs and experts and share their inspiring stories. Now, let's get started with the show.
Mike:
Welcome to the Gain Traction Podcast. I am Mike Edge, your host. So, today, before we get started, I would like to give another shout out and a thank you to Modern Tire dealer and editor Mike Mangus for having me write an article in May's publication. The title of the article is How to Boost Sales Through Digital Marketing: Why Digital Marketing Is As Important As Your P&L. You can find the article on page 49 in the hard copy. I'd also like to encourage you, if you haven't already, to listen to a great interview I did with Lance Bullock, president of OE Wheels. Lance has a great story. He and his uncle have worked hard to help create a first-rate, high-quality wheel company.
This episode is brought to you by Tread Partners and the ReTread Marketing Program. So, what is the ReTread Marketing Program? It is a full scale customer re-engagement program to win back your best lost customers. It's a one-time 120-day program that generates a guaranteed 10 to 1 return on investment. That's correct, a 10 to 1 guaranteed ROI. No tricks, no gimmicks. These are your customers and your point of sale right now. So, if you invest 4,000 today, we're saying that you'll see a return of 40,000 from that customer list within 120 days. So, what are you waiting for? To learn more, visit treadpartners.com. All right.
So, my guest today is John Repp, sales manager for Dunlap & Kyle, one of the leading tire distributors in the nation. John and I have gotten to know each other over the years and we met at multiple conferences and airports along the way. I've always found him to be a wealth of knowledge in the tire industry and he's a great conversationalist. John, it's an honor to have you on the podcast.
John:
Such an honor to be here, Mike. I really appreciate you inviting me.
Mike:
Well, I know a little bit about you, but let's let the audience know a little bit about you. So, where are you originally from and where'd you grow up and what was that like?
John:
Born here in Nashville, believe or not. My parents divorced when I was fairly young. So, I grew up both in Nashville and Central Florida, growing up, always a motorhead, gearhead.
Mike:
One of those guys, huh?
John:
For sure. Always been a car guy, motorcycle guy, boat guy, you name it. If it had wheels and tires, I was into it. If it ran on gas, that was me. So, this industry was always a natural fit for me.
Mike:
No, I know that. Did you have siblings as well?
John:
I did. I have a brother and he is exactly the opposite, musician.
Mike:
He's what?
John:
Yeah, my parents wasted their money on me when it came to music. I could listen and tell you whether I liked it or not, but I never could hit a lick.
Mike:
That's me as well. Real quick, I come from a family of seven. The top four, we can't chew gum and clap at the same time. The bottom three are overwhelmingly musically inclined, can play a lot and dance and sing everything.
John:
That's him. Unreal, self-taught, and all different things he can play. I was just like, "Man, it's amazing, really the difference."
Mike:
Look, I really envy people like that. I mean, I think I have an ear for good music and I love listening to music. But now, I'm just not musically inclined. I can't play an instrument or anything like that and it irritates me, but then I'm proud of my son. He taught himself how to play the piano and I'm like, "What the heck? How did he get that gene?"
John:
I'm so jealous. I mean, there's one thing that I wish I could still… Like I said, all the money that my parents wasted on trying to teach me how to play the piano is just I couldn't hit a lick.
Mike:
Some brains are just made that way. So, when you're in high school, what kind of work did you do then? Were you involved in the garages or anything like that?
John:
Yeah, I took a little lot of mechanics in high school. I don't know whether that I fit into that so much as some of the guys that were probably deeper into it. I was into dressing cars up and making them look good, more so than making them go fast in that timeline. But yeah, I did that. That job was like what everybody else did. Then you worked at McDonald's or a little fast food joint for your gas money.
Mike:
So when did you get your first real job, say somewhat related to this industry or in this industry?
John:
Well, I'll say in college, I went to work for a company by the name of RPS. It was a precursor to FedEx Ground. So, I did that for many, many years, but knew I wanted to be in the automotive industry and found my way in at an NTW when we first opened the store here in Nashville, that particular store. To get in, to make ends meet, I was working both jobs, just trying to get in and learn the industry and then got to the point where it would satisfy my spending habits.
Mike:
There you go. Everybody has some habits when we're younger, right?
John:
Yeah. I got bad habits when it comes to cars, so you got to be able to afford it, but yeah. Yeah, so I made it in through NTW and so I did that many years, but that was the first job in the automotive. Yeah.
Mike:
So when you and I met, you were with Bridgestone, but weren't you with Dunlop & Kyle before that?
John:
I sure was. I sure was. So, a couple of stints in our retail division. We have some retail stores, about 40 of them across, if you will, the Southeast, Tennessee, Mississippi, a couple in Arkansas going to the gateway name brand. But anyway, I did do some retail years before going to work for Bridgestone and fantastic years with our gateway stores. Yeah.
Mike:
Well, and then how long were you with Bridgestone?
John:
Nineteen years, almost 20.
Mike:
Oh, wow. I knew you had a lot of experience and then we knew a lot of the same people. You knew some of the same people from my hometown and then we met at a couple conferences. So, fast forward a little bit, how did you get back at Dunlap & Kyle?
John:
Well, I think probably COVID changed a lot in the tire industry. I think it was fast-paced and great at Bridgestone all those years. Absolutely loved it and met fantastic people there, some very influential people, dealers alike. Not just those guys that worked at Bridgestone, a lot of friends, but when COVID hit, the slowdown and pace, it made you really think about the lifestyle. So, once we started gearing back up, I don't want to say that heart was not in it, but I always knew that I wanted to come back to distributor world at some point, whether it was five more years or whatever it was, but this is where I always knew I wanted to be.
This is a phenomenal company. The culture here is unbelievable. I've always been friends with the guys here in Nashville a long, long time, but they had asked me to come. We sat down and we talked about it a little bit, some soul-searching, realized the timing is right. It was, and I felt like we had a lot to do here, a lot more to help grow this company and I want to be a part of that.
Mike:
Awesome. Well, if I remember correctly, you supported distributors with Bridgestone, is that correct?
John:
Sure did. In one of several roles that I had at the time with Bridgestone, absolutely. So, them and quite a few other distributor accounts.
Mike:
Yeah. Well, and let's talk about the Dunlap & Kyle, D & K. You sent me over something that I just absolutely love that you have on your wall and it's your values. I had mentioned to you, I'm so impressed with these. Let's just go through these and I'm going to read them off just to tell the audience what we're going to do, but then we'll break them down if you want to do it that way.
John:
Absolutely.
Mike:
So folks, the values start out, go big, champion your customer, give a damn, get your hands dirty, finish what you start, choose to trust, and have their back. Man, those things all strike a chord with me. So, let's just start with go big. What do you guys at D & K mean by that?
John:
Well, I'll start by saying that this is put together by our Board of Directors. So, this hangs in every manager's office, every sales manager's office in our company. So, we all buy into this. This is ingrained into our culture, we all believe, but our customers depend on us in innovation. So, working together with those customers, that's it. If they need us to go big in whatever manner, whether it's changing routes, adding a route, doing whatever it is to help our customers grow their business, then we are in support of that.
Mike:
I didn't mean to interrupt you, but one of the lines underneath this is stretching ourselves in service and innovation and basically allowing the customer to dream big and supporting them.
John:
Yes, absolutely. Absolutely.
Mike:
It's a great start to this value statement and then you get to the next one and it's champion your customer. What you guys have written below here is we're here because of our customers, both internal customer and external customer. While we believe in what we do and how we do it, we are always willing to improve if it means servicing the customer better or makes us more dependable.
John:
For sure. Let me throw this because this one actually came up this morning in a meeting that I was in. It was just a brief meeting with a couple of my guys, one of my CSRs and our fleet director, but it was a decision needed to be made on whether we were going to run some tires over a situation, a loading error basically last night. It wasn't a big deal, and a lot of times, if you will, most customers will say, "Hey, we're good. Bring it tomorrow." My answer to them was, anybody in business, if you will, can succeed in a lot of things. If you're in business, you're probably going to be successful in most of the things that you do.
The question is, "What do you do when something is messed up? When you make an error, how do you handle it?" That's the difference between us and say, a lot of people, a lot of other distributors. When it comes to customer service, we are going to err on the side of our customer every time. We'll figure out what we did wrong, but in the meantime, we're going to make it right with our customer before we do anything else.
Mike:
Well, I think I told you a story recently, so I've got a really good friend of mine. His younger brother bought into a tire store up here and they're fledglings in the industry or whatever, but I'd asked him if he was on a program and who he gets his tires from, et cetera. He named a few people and he mentioned you guys. I said, "Well, out of those, who's your favorite?" He goes, "Well, by far, D and K." I said, "Why's that?" He goes, "They've screwed up before, just like everybody does."
He goes, "It's not a big deal," but he just goes, "But the thing was they brought that tire all by itself to me that day just to make it right for my customer." He said, "That means everything." I mean this was before me and you reconnected or whatever. Just hearing that, knowing the industry, I thought that's a big deal.
John:
It does. It sounds like we're banging on our mess-ups sometimes, but it happens. I'm telling you it happens. It happens to everybody. I think what I do if I go somewhere and I get bad customer service and something not related to my industry but something else, how do they recover? Whether I want to do business with them going forward, how do they recover? How much do I mean to them as a customer?
Mike:
Well, they often said this in life, and I think it comes with life experiences. It's hard to learn it when you're a young man or anything like that, but you know who you can depend on and that includes your friendships as well as your business relationships. But you know who you can depend on only after adversity hits. You can't really know that until unfortunately, you have to go through something with adversity to discover, "Well, how are they going to handle that when we're both in the pit together or I'm in the pit or whatever, in some bad situation?"
You guys live in this motto of championing your customer and then you back it up. I mean, it means we're going to be there when there's an adverse situation, whether it's on you or us or whatever. We're going to help you get it right.
John:
Yeah, I mean it's the relationship, but it goes so far. It goes beyond price at that point. Everybody's looking at price and bottom line and all that, but when it comes to things like that, it moves well past that when it comes to [inaudible] to that between the two businesses.
Mike:
The next one is just flat out just give a damn.
John:
It didn't start out as that.
Mike:
Well, I tell you-
John:
Cleaned it up.
Mike:
… the reason it gets your attention is because, okay, it seems like they might care here. I mean, that's the easiest way to sum it up, I guess.
John:
We cleaned it up for public, for internal, for sure, but it means the same thing. It really does. What's in your heart? You have to do this. If your heart's not in this, then I hate to say it, I mean, you don't fit in. You're not a cog in the wheel. You know what I'm saying?
Mike:
Yeah, no, just rereading the line underneath it. It says, "Being the most dependable company means every one of us has to give our best efforts, putting our hearts into our work." I mean, okay, that's it. I will tell you, the people that I have met, I may not even know very well. You know I know Chuck, but I mean some other folks. Everyone I've met with your company, that's what appears to be the case, and it appears to be the case even with your drivers, your sales folks.
John:
Everybody that we want in contact of any part of the business is that. It matters. Just as I said, cog in the wheel, because everybody contributes no matter what it is, whether it's the guy pulling the tire or loading the tire or whatever it is. If they don't, then it fails the system and ultimately we're failing the customer. We have so many things that need to happen to make this thing work. It's just absolutely important that everybody's 100% gives a damn.
Mike:
Yup. Well, your next one is get your hands dirty. I think that would be self-explanatory, but basically, you all put it on here for a reason.
John:
It's everybody here cannot be afraid of that. You can't look back and say, "This is beneath me or this is whatever." I mean, everybody's been in this industry. I mean, there's a lot of the family, if you will, cousins, everything else in the business, and nobody is above getting out there and hustling tires when it comes to loading trucks or you got to drive a truck. You've got to be able to contribute. Again, it goes back to giving a damn, but you have to be part of it.
Mike:
That's got to start from the top, doesn't it? I know you've talked about Bob before, but we might as well touch on it a little bit, just the founder of the company and his whole attitude.
John:
Absolutely. Absolutely. He's always surrounded himself with those people that did that. That's where this company was founded, and it's grown out from people like that. I think there's a documentary out, I don't know that if you've ever been able to watch it. I'll send you the link to it, but Bob likens himself to somebody who is a good judge of character and he gives people the tools and the resources to do good business. That's how this company's grown and expanded, and it is just like that. People do give a damn, and people are not afraid to get their hands dirty. That has built this thing.
Mike:
Well, I know we're still going through this list, but I think it would be interesting. Go ahead. What's the title of that documentary? Because people can find it on YouTube and I think it's about 30 minutes.
John:
Yes, it is. I believe it's called Bob Dunlap, Philanthropist, but I will-
Mike:
I think you're right, but you can look it up, folks.
John:
It's on YouTube.
Mike:
Bob Dunlap on YouTube, and you'll find a documentary about him. It's about 30 minutes. It's that one in particular. It is a great documentary, because it does talk about his charitable work. I think that was the theme of it, but it really gets into the core of his being and he cares about his community. He cares about his employees.
John:
Absolutely.
Mike:
It gives you a good vibe of D and K.
John:
For sure. It gives you a little bit of the beginning, if you will, the origin or how the company started, even a little bit before the tire company began. Yes, absolutely. It's a must watch to get a really good read on D & K.
Mike:
I mean, listen, there's a lot of people in this audience that are listening and probably know Bob or whatever, but I mean, we're talking about a man that still comes in the office every day and he's 93. Am I right?
John:
Right, exactly right. Modern Tire dealer of the year, by the way, dealer of the year this year, over this past year.
Mike:
So it says everything. I mean, what are you going to complain about? You're not going to come into work one day when this 93-year-old man still… What is the old adage? I mean, you lead by example. I mean him just showing up and doing his thing, I mean, that just says everything. I like this next one too. Finish what you start.
John:
For sure. For sure.
Mike:
It gets back to just being dependable again, right?
John:
For sure, for sure. I mean, again, it's follow up. I say it all follows around and hinges around that give a damn. But I mean, it's one of those things that you have to. If you start a project, regardless of what it is, as simple as a phone call, but all the way through you, you've got to follow up. I learned that one of the things that at Bridgestone, I hate to say this and bring that back into it, but as a tire rep, it seemed like so many guys would just say, "Hey, thank you for calling me back." It's so simple when they would call, leave you a voicemail. So, simple that you would do that and you would just assume everybody did it but it's not. They don't.
Mike:
This gets off the topic a little bit, but my brother, when he entered the insurance business, just your normal home and auto life insurance stuff, he said he was amazed that everybody that he picked up as a client was like, "Man, you called me back." He's like, "Yeah, that's my job." He said, within the first year, he discovered the only thing I got to do is call these people back the same day they call me and he goes, "And then they love you."
He said, "I thought that was normal," but apparently, he said, "I was picking up clients left and right," because they said, "Of course, if you've got a tree on your house or you wreck your car or you want to hear from your agent, some of these guys wouldn't call people back for three days." He said, "How are you in business?" I feel like that's for everything. I'm just using him as an example, but to your point-
John:
It's just an assumption that you would think that people do that. So, by all means, but I think again, when you listen to the phone calls that come here, if you will, either a CSR or one of our sales guys, it is truly a relationship. So, when you take it that much further, I make sure my CSRs are out visiting customers with the sales guy so they can develop that relationship. Yeah, once you have that, you're not going to leave that guy hanging. You're not. You're going to call him back. But it's just an assumption that everybody would do that.
Mike:
No, it's bewildering to me when you think you're getting credit for something that you think, "Well, I thought everybody did this." Yeah, I get it. Choose to trust.
John:
Well, as I said, you assume the worst. In my mind, somebody sends an adjustment. We again are in the relationship with the customer. We've got to trust that they have our best interest as well and we have their interest, so that we have to give them the benefit of the doubt in whatever it is. But we have to trust our customers. We have to [inaudible].
Mike:
What's cool about that is to be able to trust like you guys do, it's obviously paid off. I mean, look at the way you've grown. How many warehouses do you guys have now?
John:
We're at 19 and there are pins in the map. There are more out there that are coming.
Mike:
But that's what's the fabulous part about it is it's obviously trickled down from Bob that I'm going to trust my customer. I'm going to have a relationship with them. Once they understand that and trust you, then it just keeps rolling. I just love the fact you said this earlier, but I know it comes down to dollars and cents, but also, that dollars and cents is hidden a lot of times in this type of attitude. I trust you, so I know I'm going to make money in the long run. I'm not going to worry about this today because it's a headache for you and I want to take care of it.
John:
Everybody does it. I mean, any tire dealer, you go in there and they've got everybody on the screen is who's got what. For the most part, everybody generally is within a few dollars one another. When you have that relationship, they trust that we're going to be there when we say we're going to be there and we're going to have what we have on the truck what we said we're going to going to deliver. You know what I'm saying? What they ordered, that type of thing. It moves past that couple of dollars if that's the case. Sometimes we're cheaper, sometimes we may be a little bit more, but it goes past that for sure.
Mike:
But at the end of the day, it's kind like the same relationship that your dealers want with their customers where I'm one of these guys. I go in and you tell me what's wrong with my car. Here's the keys and fix it. I don't get into the weeds on somebody I trust, if that makes sense. Why? Because you just know he's going to take care of me. He's not going to take advantage of me or anything like that. He's going to fix it. I pay you what's fair and we move on.
John:
I mean, that's the goal, I guess, if you will, in retail for sure. I know you deal with a lot of those guys when it gets to that point where when you're talking to a tire dealer or an automotive repair shop and he says, "Yeah, this is Joe." He comes in. He just throws me the keys and says, "Put a set of tires on it and do this, do that." Doesn't ask about price or anything else because the trust level is there. He treated it like his own mom's car. He put on the best that there is for him.
Mike:
I love that relationship you guys have with your dealers as a distributor. The last one on here is have their back. It probably is just another angle of saying some of the things we've already said, but again, it's still an important, I think, line item here.
John:
Yeah, I mean, nobody wants to hear the stories about when, if you will, a tire dealer gets in financial strengths or whatever, but I've been to many a dealer that has told me that they will always do business with Dunlop & Kyle because our credit manager helped them through a tough time in their business. I can't speak enough good things about David Lemay here, who's been with us for I guess probably a little bit over 40 years. I mean, it's a long time to be, but the relationships that he has, I mean, he's firm but nice if you will. He's helped a lot of guys in that, but it becomes a tough time.
So, you take that you have their back. Could we have buried somebody? Absolutely. Would we? Why would we want to? If we can help somebody continue in their business and feed their family, by all means. I know there's more out there than I know of. I think of some of the examples that I'm truly aware of, but these guys will solely do business with Dunlop & Kyle at every opportunity that they can because of what this company has done to help them. So, that's what that means.
Mike:
I was going to say, I'm really glad you sent that list over. I mean, the fact that you've got it written down, the fact that you guys have thought about it, obviously, it's probably changed over the years or whatever, but you stick to that as your core. Then when you get into those tough times, what do you refer back to? Refer back to that list. What are we going to do? Right here.
John:
It's so funny because I got into Chuck the other day about something fairly minor, and he just tapped me on the shoulder. He pointed to my office. He said, "Go read the list."
Mike:
I love it. I love it. Well, I mean, it's true though, but by you all knowing that list, it helps each one of you know that I hold my coworkers and superiors and et cetera. Everybody would just look at the standard. Are we going to do this or not? It's a reminder, and that's awesome that Chuck did that. I mean, I can see him doing it too because he's got such a great sense of humor.
John:
Yeah. I thought he was a little bit out of bounds on that one, but yeah.
Mike:
Yeah, you're the boss, man. Wait a minute.
John:
What about that? You're trying to use something against me here.
Mike:
Oh, that's funny.
John:
No, it's true. It's the standard which we hold ourselves. We're going to other accountable. We all should be held accountable, absolutely.
Mike:
It makes it easier, right? I mean, it makes it easier in the sense that you have it written down. It's on the wall. You got a question because they're going to come up, refer back to the list. Well, we're coming up on our hard stop here. So, I got this segment in here that I call Make Us Laugh. So, you got to tell us a funny story. I don't want to be spoilers because you already shared this with me, but to the audience, they're going to absolutely love this one. So, the floor is yours. Tell me a funny story.
John:
There's so many, Mike. I know I've told you a few of them, but you're holding me on this one. It is good. So, this goes back years and years ago, back to the retail time when we were talking about it. I guess it was probably mid to late 90s. I'm trying to remember exactly when Ford came out with the new F-250. But every year, Ford would give Mr. Jackson a new F-250. This particular year, as I said, it was a brand new model. So, it came straight from Ford to us. Our manager down at Franklin and Garth had a really good relationship with Mr. Jackson's, one of his people.
So, we did a lot of other work for Alan and some of his other cars. But at any rate, the truck came in and there was a wheel fitment. He wanted some wheels on it, some tires on it, a little bit bigger than stock. So, we worked through that issue and got him all squared up, got his truck to him and everything. So, a couple of weeks goes on and I'm at our downtown store. A gentleman and his friend come in.
Mike:
So the audience remembers, this is downtown Nashville.
John:
There are stars floating around, if you will, country music people, but I don't know them. That's not my genre. It's just not. But at any rate, a gentleman comes in and is friends with him. The main gentleman is wearing, I guess if you will, silk shorts and a basketball jersey, whatnot. He's not really that tall. I was taller than he was, but that's cool. Whatever. He informed me that he's got a new F-250 and I probably have not dealt with this before. I'd probably need to do my homework real quick. Well, he had told me that it was the first one in Nashville. I said, "Well, you're in luck. Actually, Allan got one two weeks ago, and we were part of putting a set of wheels and tires on it." So I was a little bit experienced with it, and I knew what would fit it.
So, I didn't realize at the time that I was coming across that way on it, but anyway. So, I take him back in the back of the warehouse and I'm showing him some tires and everything. I let him know some wheels and what's going to work on it and whatnot. Then we come back up and we're walking through past where our warehouse CPU guys are and everything. I got a couple guys come running up to him asking him for his autograph. Like I said, I didn't know who he was. It didn't mean anything to me, but I said, "I don't know who you are." I said, "Do you play ball or something?" His buddy loses it. His buddy is laughing his ass off. He looks at me, he goes, "Boy, do you know who I'm?" He goes, "I'm Sammy Kershaw."
Mike:
He was big back then.
John:
"I'm sorry, I don't," but I said, "I know these wheels and tires will fit your truck."
Mike:
I don't know much about the music, but I know your truck, buddy.
John:
His buddy laughed so hard. It was so good. From there on out, every time Sammy… He had a farm up the road from our store there. So, every time he needed something done on the farm, he'd call me.
Mike:
That's awesome. That's such a great story. I mean, I love it. I mean, because you're just as honest as could be. I mean this, at that time, he was really big.
John:
He was at that time, for sure. Like I said, I had no clue. We saw a lot of them in other places. We saw a lot down in Franklin. I don't know if you've ever been to our Franklin store, but this will give you one about Mr. Bob. Jerry Reed used to come in down there and Jerry Reed was the nicest guy ever. No pretenses about him whatsoever. He would sit on the front porch. We had rocking chairs out front.
Mike:
Just so everybody knows, Jerry Reed played the cowboy or the truck driver in Smokey and the Bandit as well. I mean, he was a country singer, but he played… Yeah.
John:
He sure did.
Mike:
He's also in Waterboy. He was the bad guy coach.
John:
Yes, he was, the Snowman. I loved Jerry Reed. He really was a great guy, a lot of great customers, but he was just something. But he'd sit on the front porch. He'd drop his car off and just sit and hang out. I guess word got back to Mr. Bob that he was sitting out front. People would stop and talk to him, and Mr. Bob figured he wanted some privacy. So, he called Garth and told him to build a patio on the side of the building. So, if you look at that patio, it's huge. It's beautiful. I don't think Jerry ever sat out there.
Mike:
That is fabulous, but no, that's cool that Bob did that. Yeah, you got some great stories. Well, listen, we're running up on our time, but one more and we'll keep this quick for the audience. What's your favorite movie of all time? Any genre, I mean, I realize you may have multiples, but something that comes to mind.
John:
Yeah, it always falls back to the same. There's a lot of different movies for a lot of different things, but it's always been Happy Gilmore for me. It's so quotable, but my dad used to make me play golf with him and I never developed a love for that game. That was my thing, how I always looked at golf. I wish that I could just interject a little bit of that into golf.
Mike:
So you love the crowd that Happy brought to the golf course, huh?
John:
Yeah, just the attitude about it.
Mike:
Love it. Well, John, I can't thank you enough for being on the Gain Traction Podcast. I mean, it's always a pleasure to talk to you, but thank you for being here.
John:
You, too, Mike. Man, like I said, pleasure. Thank you for recognizing me.
Mike:
Absolutely.
John:
Love it.
Mike:
Listen, to all our listeners out there, we thank you very much for being part of the podcast. If you'd like to recommend a guest to me, please feel free to email me at [email protected]. We take all recommendations very seriously. Until next time, be safe and have a great day.
Announcer:
Thanks for listening to the Gain Traction Podcast. We'll see you again next time, and be sure to click subscribe to get future episodes.