Profit Sharing Increases Caring With Dick Erickson, Founder of Sun Tire and Author of How the Rubber Meets the Road.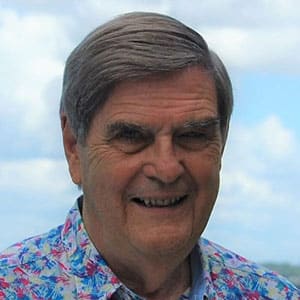 Dick Erickson is the Founder of Sun Tire and author of How the Rubber Meets the Road: A Blue-Collar Roadmap to Success for Business Owners and Entrepreneurs. He opened his first Sun Tire store in Orange Park, Florida, in 1981 and added ten more stores over the next few decades. Dick sold the business to a national chain of tire stores in 2018. His book details his journey from rural North Dakota to flying helicopters in the Marine Corps in Vietnam. It covers four key business topics: customer service, profit sharing, mentoring, and profitable growth.
In this episode…
How do you motivate your customer service team to reach the highest levels of service possible? What are the best ways to keep frontline staff motivated and pushing in a positive direction? If you own a tire and auto repair shop, you've probably asked yourself these questions more than once. For insight on this topic, don't miss this episode of Gain Traction!
Can profit sharing among employees positively affect customer service? Dick Erickson says he implemented profit sharing for every employee, changing how everyone behaved at work. They treated the equipment with more care, and the quality of customer service went "above and beyond."
In this episode of Gain Traction, Dick joins Mike Edge for a captivating conversation about what he learned from attending a Les Schwab training program for 19 consecutive years and how his Sun Tire stores benefitted after implementing profit sharing among all employees. Dick speaks on profit sharing and how it revolutionized the culture at Sun Tire. Tune in to hear how profit sharing could potentially change your business!
Here's a glimpse of what you'll learn:
Dick Erickson summarizes his 40-year journey in the tire and auto industry
What life looked like when Dick opened his first Sun Tire store in 1981
Why a commitment to learning has served Dick well
What Dick learned from visiting a Les Schwab program on the west coast for 19 consecutive years
How profit sharing affected Sun Tire's quality of customer service
Why Patton is Dick's favorite movie
Resources mentioned in this episode:
Transcription
Announcer:
Welcome to the Gain Traction podcast, where we feature top automotive entrepreneurs and experts and share their inspiring stories. Now let's get started with the show.
Mike Edge:
Welcome to the Gain Traction podcast. Mike Edge here. I am the host of Gain Traction, where I talk with top automotive business leaders about their personal journey and experiences in the tire and auto repair industry. I'd like to give a shout-out to Michael McGregor, the author of Buy, Build, Fix, Sell. He was a guest on the Gain Traction podcast and the book is a definite must, if you're thinking about selling your tire and auto repair shop or shops, please visit our site, treadpartners.com/podcast and you can listen to the Michael McGregor interview. Today's episode is brought to you by Tread Partners in the ReTread Program. Tread Partners has designed a product called ReTread, that is a full-scale customer re-engagement program to win back your best-lost customers. It is a one-time, 90-day program that generates a guaranteed 10 to 1 return on your investment. That's correct. A 10 to 1 guaranteed ROI. No tricks or gimmicks. They're your customers, and we help you bring back the customers that have been lost for six months to 30 months. So what are you waiting for? Email [email protected] or visit the website at treadpartners.com.
Today's guest is Dick Erickson. Dick started his career managing a tire store in Panama City, Florida. He opened the first Sun store in Orange Park, Florida in 1981. Added 10 more stores over the next few decades and sold the business to a large national chain of tire stores in 2018. He is author of the book, How the Rubber Meets the Road, where he documents his journey from growing up in rural North Dakota to flying helicopters in the Marine Corps in Vietnam, to his remarkable success in the retail tire business. The book covers four key business topics, customer service, profit sharing, mentoring, and profitable growth. I want to discuss the one that stands out to me most today, which caught my attention, which is profit sharing. So I look forward to this discussion. Dick, welcome to the podcast.
Dick Erickson:
Thank you Mike. This is a real pleasure. I've been at this industry for 40 years and fell in love with it and initially I took a few hits. People say you went to college to be a tire man? I heard that from a few folks after I got my degree after getting out of the Marine Corps. But I'm so thankful that this all came about. And so yeah, my journey started in Panama City and I worked for a chain of Big 10 Tires for 10 years and learned my wires the best I could. I thought I knew more than I did when I did get on my own. But anyhow, I learned a lot of the tire industry and then I had a no compete so I had to stay out of their territory. And Jacksonville, Florida was open and I came in here, around a million people and I've been here ever since. And that was 1981.
Mike:
That's awesome. So you mentioned earlier to me that you got involved, you were living in North Dakota and then you wanted to come South and that's–
Dick:
Right.
Mike:
Yeah.
Dick:
My father-in-law was the insurer of the Big 10 Tire chain on their property and liability and stuff like that. And so he introduced me to those people and it was a great experience, although I hit the ceiling and so I moved on.
Mike:
Yeah. So when you took that first big plunge on your own, you were married at the time? Did you have kids? Where was life at that point?
Dick:
Yep. I moved to Jacksonville, Florida. I had a one-year-old and I had four children. Came down here, knew one person and I got started. I knew people in the industry but I started and built one at a time and got it up to 11. And the thing Mike, that came out with me was as I grew, I watched other companies and always trying to figure out and I became an idea leech, if you came up with a good idea, if I saw you doing a better job, I'd try to figure out how you were doing that. And I worked that pretty good. I ended up finding out about the Les Schwab program on the West Coast and so I went out and visited them and in fact I went out there 19 successive years, to learn their program best I could. They weren't going to share everything understandably, but Les wrote a book and so as I picked up their ideas, they were a heads and shoulder over anything I'd ever visited.
Mike:
That's great. And they were. They were trendsetters. And already exemplify one great trait, Dick, is the fact that you are always willing to learn more. And I think that's one of the major keys to good leadership.
Dick:
That was a big part of my journey, was doing that and was also exciting. When you'd see something, I know a friend of mine introduced me to some friends, some of his friends and he said, this is Dick Erickson, he's my idea leech. And that's where the word leech came from. And I thought, is that nice? I don't know if he's being mean to me, but he was kidding me. But he was absolutely right, because I'd get these guys outside once I said, we got to have coffee, I need to know more about how you're doing that. And most people will share with you, if you're not competitors and you're sensitive about what's important, do things that would hurt them.
But the thing that really came out when I was going out west was, I thought, what sets these people apart? Their net was double mine, and in the industry, I put in a book, I read Mike's a little bit of his deal, he says 10, I say it's a little lower as an average of a chain that I looked at over the years, but depending on how they expense their rent and a few things. But as I look here, these guys were over double it, looked like. And I'm going, how are they doing it? And the one thing that came out for sure, you got to have a good company, a good plan, you got to have good employees, you got to have good leadership. But the thing that I saw over and over, people weren't sharing with their employees and out there they were. Every person in those stores and in that corporation was getting a share of the profits.
So they became stakeholders and I saw the difference in how they came to work, how they worked throughout the day. And I'm not trying to pick on anyone else, because there's some great tire companies out there, but this one I'm going, I took my son out there and he said, dad, you don't expect us to do this, do you? And I'm going, what? They're human beings like you and I. Yes we can do this, but you got to get the whole group fired up. And I found profit sharing was the thing that, not just like so many, the top echelon, it was everybody to the last guy I hired got a piece of the profits.
Mike:
That's fantastic.
Dick:
Yeah. And so, one other thought and then we can enlarge on it as we have time, but within that, so we split profits right down the middle and in their half of the profits, this is an important point in my mind, there was their retirement plan was a part that, so 15% of the overall profits went into a retirement plan. And so, so many businesses out there at times will have certain benefits, whether its medical and all that. But I saw it growing up in 10 Store, or the chain that I was in Pensacola, a retirement program and I saw older people retired trying to live on social security and I'm going, there's got to be a better way.
Mike:
So it became pretty personal for you just from personal experience or witnessing what happened to other older [inaudible 00:08:55].
Dick:
Exactly. I'll look [inaudible 00:08:56] yeah.
Mike:
Yeah. I'm fascinated by what you learned there and the whole profit-sharing structure. So, how long did it take you, I'm sure we're going to have some listeners wonder this question, how long did it take you to implement it? I'm sure it's not just some easy structure that you can just turn on. So you probably had to do months of planning and then what? Release it or open it up on a particular date? Or how does that work?
Dick:
Yeah, the down and dirty was initially, I made everyone come aboard on it and I ended up losing some key folks and I thought, oh, I've made a mistake and I did. So I went back to our old plan, recouped my lost employees and there was some key guys that had left and came at it the second time. And then you had to qualify, you had to have certain type of profitability going in your store and then we would give you the chance to move to the next level. You could make 10% without the plan, with the plan, you moved to 17% as a manager and the assistant manager doubled his piece of that too. And it was all part of their 50. The employees got 10%, 15% went into retirement. So if you added those 17, 8, 15 and 10, you get 50%. And then we worked through on how we passed the 10, that was done monthly to the hourly people. Schwab it was at the end of the year and implementing a going program, I had to tweak some things.
So I don't want to get too belabor it, but it did take a little bit. And the thing that people, that I found out there, the manager and assistant manager put up up to half, well it started off 50% of the assets were funded by the manager and assistant manager out of their future bonuses.
Mike:
Oh, okay.
Dick:
And so they're very sensitive. It really made them real strong stakeholders. They weren't owners, but they owned that money that they had in there, that was theirs. And every time if they bought a new machine, they had to put up their share of that out of future bonuses. So they're very careful on how they dealt with their equipment. They don't have to buy something if they didn't need it. They took better care of it, things of that sort. So, that was just one side. The other issue, Mike, is more than anything is how they were treating the customer. It was absolutely, I saw them above and beyond on how their customer service was meeting deadlines, never having any questions over the pricing of the product when it came time to lead, so often. Oh I thought it was a different price. No, this and that was all. So they're very professional and we got that in. I don't know if you covered this another idea, but what I found it, I don't think I'm wrong.
We have a lot of distrust in the automotive repair business. And overcoming that was how the successful people got down, did a better job is, how do I overcome this distrust that's happened, not maybe on my watch, but it happened prior to someone trading with me or something. How do I get that person to trust me? So I saw the customer relations was above and beyond. They didn't need supervisory.
Mike:
You mean once the profit sharing started, the customer service level just went above and beyond because now they truly viewed your customer as their customers.
Dick:
Amen. And they would not let a fellow employee abuse them or anyone else. That was their lifeblood. So you'd see–
Mike:
Let me ask you this real quick, because you've got my curiosity, what kind of bonuses could somebody get in a month's time, let's say at the lower level?
Dick:
Well, let's say if you made $10,000 in your store this month, there'd be $1,000 to split up with the hourly guys. And if you had five, six guys in there and then, what you did is that by longevity and that was already put together. And it's a great plan. So if you're a five-year employee, you got three units, two to five years, you got two units of the bonus. And if you're up to two years, you're one unit. So new guys got a piece, but it was smaller. And that time you got five years and above, that thing, so if you had five guys, let's say cumulatively it was, let's say there was each unit you'd come up with ten, five guys, let's say they all [inaudible 00:13:56] So you'd have 10, there'd be a hundred dollars per unit. Okay? So if you're a five-year employee, you would get a $300 extra check that month.
And to a tire changer and then we had guys making more than $10,000 in our bigger store. So some of those would be ending up with a $500 monthly check and it would make the horse trot as we say in North Dakota. And we would cut that check as soon as the financials came out on the 15th. The management had to wait longer, but they knew every month what they had earned and that was cumulatively. And then at the end of the year, we'd look at what their assets were and what their percent was and fund that and the rest went back to them.
Mike:
Man, that is fantastic. And you're telling me [inaudible 00:14:51], you really work hard to keep them motivated, but the motivation just probably, it had to be like, it's not just a two x, it had to be a five or six, seven x, I would think, in regards to their desire to be there and really look after the customer. Because if you're getting $300 extra check a month and it could go up depending on what they did, I mean that's a big lift.
Dick:
It is. And then the thing too, Mike, is you did away with middle management. You had a manager, but he had that pushing down those decisions into the guys and they're out there working that deal every day. They didn't need someone showing up and having a cup of coffee with them talking about business. They knew what their job was, including the manager. And so your payroll got better just because of not having supervisors around, that wasn't necessary. And I saw that on the West Coast and that was happening in my company at the end. The people who looked after the customer and they looked after each other and they looked after the equipment, shrinkage, we didn't even know what that word was. And we didn't have cameras. No one steals from themselves. So it did away with the things that in the past we had a problem or two every once in a while at a store with tires missing or something, those things went away. It went away.
Mike:
Well it's almost like you created an ESOP corp without creating one, right? In a sense.
Dick:
Yeah.
Mike:
Yeah.
Dick:
The ESOP's sometimes a problem. And I looked at an ESOP myself. I didn't have the upper management enough to, and there you need some more structure. And in this here, the structure, there wasn't as much structure, because everyone knew their job. The problem is, when you take over, the top flight leaves in a company, then who's going to really be in charge? And if they've been top down in management of the company, which happens in many cases, because there's not that many people in the store, a lot of times, it's easy to micromanage that, but it's really better if you don't and let the guys feel their oats.
Mike:
No, I really like it. That's awesome. Obviously, I've been in this industry for a long time and I've been on the marketing side and I've seen a lot. But I have been in some other industries and I've noticed, my question is, why wouldn't more industries do it? Or more businesses? It seems like it's such a no-brainer after you see the results.
Dick:
Mike, it blows my mind. And then also, now going to administration and I found a lot of companies, 3 to 5% of your revenue stream went in a chain into administering a company. Some more, some less. But as people would share in other markets, we got our administrative expense down to 1.75%.
Mike:
Are you kidding me?
Dick:
Because our administration was three ladies in East 11 stores and they had their computer and their phone system, all that was part of their P&L. And we would readjust the bar about every three years below it a little bit. And then any savings they got half of. Now I want to tell you something, you try to take a pen off their desk, probably missing a finger.
Mike:
That is phenomenal though. You got so much energy when you talk about it, I can tell that it made such an impact on you personally, but it seems to have just really revolutionized your business and catapulted it.
Dick:
Well it did, Mike. And let's go back to administration, I'd say every once in a while to the lady who ran it, she was CPA and I said, Peggy, you need some help? And she'd say, Mr. Erickson, are there any reports missing? And I said, No. She said, What is it that's the problem then? And I just shut my mouth and leave the room, because she knew if she And then I would ask her periodically about every second, third year, if she was up for a pay raise, she put off her pay raises because she knew that the other two were completely transparent. They would know she took a pay raise and her other two ladies would. And they're all making pretty good money. Making I think very good money. But regardless, that's the subjective at times.
But how they controlled that and they knew they were serving the stores though, so they knew who the boss was. That was the stores. But they watched their expenses and it was unbelievable. And don't go into their office and talk trash for the first 15 days because that's when they're putting the financials together. All they were doing is head down, butt up, let's get her done.
Mike:
That's fabulous. Well I'll tell you right now, we could probably talk about this for a whole nother hour. It's a great topic. I'm going to have to have you back Dick, but we've actually come up on our stop. Before we cut off here, I want to ask you one big hard question here, just to be more personal to our audience, I always thought this one, but what's your favorite movie? And if you got multiple movies, you're allowed to give me up to three.
Dick:
No, I hate to say this, but it's Patton.
Mike:
Is it really?
Dick:
Yeah. I could tell you when we go into a new scene, what he is going to say. Coming from the military and just that there had to be structure, you've got to have, even this here, there is structure to it. And you got to have people that will play the structure. That believe in the structure. And so Patton, I've got his book and never did read his book, but I did watch the movie lots of times and it was just to me, amazing what went on there. But will you talk about someone who had his heart and soul on what he did, is unbelievable.
Mike:
Oh man, that's so neat. You're my first guest to pick that movie. But I really like that movie and well it calls me. So after I watched that movie multiple times, just like yourself, I've gone online and I'll go and look up just quotes from Patton.
Dick:
Oh yeah.
Mike:
One of my favorite, that he touched in, I'm going to paraphrase, but he said, when you hire people or when you recruit people or whoever you have working underneath you, you don't have to tell them how to do something. He said, you expect them to know, that's why you hired them. And you expect to hire competent people around you. He said, so I always, when I recruited or hired somebody, I told them what I wanted and what I expected and then I allowed them to figure out how to get there. And I always found that as a great leadership quality, because I think people especially see it more today I think than ever. But everybody wants to be a little bit of a micromanager and involved in a lot. And I think it's probably hard for people to believe such a great leader was almost hands-off in some ways, up until you had to be involved in. And then he would get his, I think you'll probably love the part where, remember when they couldn't cross the river? And then they look up and he's across the river?
Dick:
Yeah. Or the other time when they came into Egypt or whatever it was and had that, at the beginning of the movie and all these guys were getting up late and going to breakfast late and all that. And he shut off breakfast and he gave them the rules and said, this is the way, [inaudible 00:22:35] you don't play that game? Forget it. And boy, these folks are like, who is this guy? Because they were taking life easy and it wasn't meant to be.
Mike:
No. He knew what war was about and he didn't cut any slack and this is an interesting sidetrack to the movie but, so a year and a half ago I had the good fortune of meeting a gentleman that fought and survived the Battle of the Bulge and Patton was one of his heroes. And I asked him, I said, afterwards, did you get to meet him? He said, yeah, I did. And he said, it was just a great experience and that was, but he had a lot of incredibly brutal stories that he didn't open up with until he was in his nineties basically. But I took my sons, I've got five kids with three sons and took them all and they all got to meet him and then–
Dick:
It's fascinating.
Mike:
Yeah. And since then he's passed away. But I said, you guys got to meet living history right there. And he was such a great guy. But yeah, it was just a cool connection for my boys who are 21 down to 14, to actually shake hands or meet this guy that survived that whole experience of Battle of the Bulge.
Dick:
Yeah. That was my father-in-law went through that. Yeah, got to live what you're talking.
Mike:
Yeah.
Dick:
And he did that all the way. The way he wore his uniform, the way he addressed things, and I found myself, was to be consistent. I got a few deals in my book, one time I showed up and I was on vacation and dropped by one of my stores and I didn't shave. I got called out by my store manager, because we had that kind of openness, he said, Mr. Erickson, I thought we had a rule that we never came to work unshaven. I go, oh my God, I can't believe I'm here with… And I said, okay, I had that coming, it'll never happen again. I get the guys, we pulled them all together again at the store and I apologized to them and I took my looking and so I just always believed you talk it, you better live it.
Mike:
Well. And that's what they respected about you. I've learned to say that to my sons actually. We're digressing here, but I've found out that it goes a long way if you admit when you're wrong. It's done wonders in regards to communication, what have you. But listen, hey, let's tell the audience where can they find your book, How the Rubber Meets the Road?
Dick:
Amazon.com. And it's that simple. So yeah, hopefully it'll be of help to some people and just sharing ideas.
Mike:
Well great. Dick, I got to tell you, thanks for being on the podcast. It's been a pleasure. Folks, please buy the book amazon.com. It's How the Rubber Meets the Road by Dick Erickson. And then to all the listeners out there today, thank you for being part of the podcast. If you'd like to recommend a guest to us, don't hesitate, please email me at [email protected]. And until next time, have a great day. Dick, thank you very much.
Dick:
Thank you, Mike. Have a good day.
Announcer:
Thanks for listening to the Gain Traction Podcast. We'll see you again next time. And be sure to click subscribe to get future episodes.