Bringing Tires to the People With Jay Condrick, Owner at Boston Mobile Tire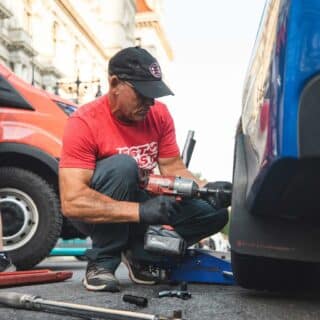 Jay Condrick is the Owner of Boston Mobile Tire. He has worked in sales and marketing for more than 15 years and has owned Boston Mobile Tire, a direct-to-consumer tire business, since February 2020. Jay has been involved in endurance racing and is a racer in ChampCar.
In this episode…
Is online tire shopping and service the wave of the future? For customers of Boston Mobile Tire, the future is now. Jay Condrick is a Boston Mobile Tire franchisee who only shops online whenever his car needs maintenance. He says several customers go to his website, "hit the buy now button, and I show up at their house. They scheduled a service online, and I show up and install the tires. They think it's the greatest thing since sliced bread."
On this episode of Gain Traction, Neal Maier and Matthew Peters welcome Jay to discuss the emergence of online shopping for tires and having the service delivered to the customer's location. He explains his decision to join the mobile tire business as a franchisee and how he found success despite limited tire and auto experience. Jay has some advice for struggling entrepreneurs in the mobile tire industry and shares how he regularly earns positive reviews online. Don't miss this informative episode!
Here's a glimpse of what you'll learn:
Jay Condrick explains how he got started in the tire industry
The keys to success in the mobile tire business
Why Jay purchased a Boston Mobile Tire franchise
Jay's advice to a struggling entrepreneur in the mobile tire industry
How Boston Mobile Tire handles tire supply
What is Jay's key to earning positive online reviews?
Resources mentioned in this episode:
Transcript
Announcer:
Welcome to the Gain Traction podcast, where we feature top automotive entrepreneurs and experts and share their inspiring stories. Now let's get started with the show.
Neal Maier:
Hi, I'm Neal Meyer. I'm the host of Gain Traction where I talk with top automotive business leaders about their journeys. Today I'm joined by my colleague Matt Peters, as well as a founder with a really intriguing story. Before we jump in, this episode is brought to you by Tread Partners. Tread Partners is a home of re-tread our new customer re-engagement program. By using targeted digital ads and communications, we'll help you win back your best lost customers and even guarantee it with a 10X ROI. So what are you waiting for? Visit us at treadpartners.com. Today I'm joined by Jay Condrick, the owner of Boston Mobile Tire. Jay, welcome to Gain Traction.
Jay Condrick:
Thank you for having me.
Neal:
So Jay, I'll dive right in. The mobile tire business is hot. There's tons of interest. We get calls all the time from brick and mortar tire dealers to newly minted entrepreneurs. So tell us how you got started in the mobile tire business.
Jay:
So I don't know, roughly three years ago I was involved in digital marketing. I was involved in the automotive industry. I was looking for another challenge. I was kind of, I don't know, I was working from home back before everybody worked from home and I was bored. And my wife said, "Enough, go find something." So I started digging around. I was looking in the automotive industry. I don't know how I stumbled across Mobile Tire as a business opportunity, as a franchise as actually, and I ended up very quickly doing some investigation. Loved the concept. Anybody that I found a little video online of, it was a franchise thing and what if the tire shop came to you? That dramatic thing. But it was a quick little video and I put it on my phone and I started showing it to friends and my family and everybody said, oh my God, that is a great idea.
And so I went from thinking about it to meeting with franchisees from two different companies that I was looking into. Spent a day and a half and their boots. One guy in Pittsburgh and another guy down in Charlotte. Talked to somebody else in the industry and then very quickly just said, the heck what? I'm going to do this and move forward. I wrote a check the day before the stock market crashed in 2020. First, I thought I was a genius. My money was 30% more what I pulled out the day before. This is great. And I thought, wait a minute. The market just crashed like this doesn't mean good things are coming. And so it was a good time to start a business in one way, it was a bad time. But it all worked out, I guess.
Neal:
That's interesting. Have you ever changed a tire before?
Jay:
A few times. Not a lot, honestly. I had started doing some endurance racing. Champ car lemons with a bunch of guys with a bunch of crappy old BMW. And being the new guy on the team, I'd go up on a Saturday to help get the cars ready for the next race or whatever and I ended up using the tire machine. And it was an old something they got for free from somebody and we typically tore up one tire for every two we changed. So at least I knew the basics of how a tire machine worked, but I had never really changed tires. I can't really say that I was… I wasn't good at it. But anyway, that was the limit of my experience.
Neal:
That's changed by now.
Jay:
Yeah, yeah.
Matt Peters:
Jay, I learned to change tires on the ground with hardware. No tire machine. We used a bubble balancer. It was really raw back in those days.
Jay:
Well, what those things work.
Matt:
They do.
Jay:
Well, one of the franchisees that I first started with, his machine broke and he was old school and he brought his bubble balancer back out and he said for a week, that's what he used and no one complained. So it works.
Matt:
It does.
Neal:
I'm ashamed to say that I've spent my career in and around the tire business, but I have never changed a tire. Early on I wanted to learn and my first employer said, if you learn how to change a tire, you'll be back here helping whenever you can and not answering the phone, which is why I hired you. So good advice at the time.
Jay:
Well listen, we can fix that. You can take a working holiday, come on up to Boston, I'll put you to work and you'll be changing tires in no time.
Neal:
We'll talk about it in the summer.
Jay:
All right.
Neal:
So Jay, I mean, mobile tire industry's new, relatively new. Especially compared to traditional brick and mortar. Where did you figure it out? How'd you learn it and where do you look for standards and training?
Jay:
So it's new around here and we say that. But everybody in the industry… Once I started looking into it, my daughter called me, she was going to school up in Buffalo. She said, "Dad, there's a Goodyear truck up here. It's called Roll. I've seen it." And someone at Michelin had tried it or Bridgestone or Firestone or everybody's had their attempts. I think Firestone's still trying. I think Goodyear is still trying. I don't think Michelin does in this country anyway. But it's been around for a 10 years at least.
It's huge in Canada. This guy up there in Toronto, Jack Benzacar, who you guys may know, runs Tire Butler of Toronto. He's got a dozen vans. He's been doing this for 10 years. So he is got a 50,000 square foot warehouse. It's a growing concern up there. And Canadians, they're used to it. Not a lot, but when I get a transplant down here, they're kind of surprised that there aren't that many mobile guys around there are up there. So it's big in Europe. I've connected with a guy in Australia that runs a dozen vans in Australia. So it's big everywhere, but it's never really taken off here.
So to your point, there's not a lot of… It's hard. I was fortunate enough, I connected with Jack Benzacar. I've connected with Andrew Comrie-Picard out in LA who runs Zip Tire and picked his brain. Luckily I did buy into a franchise, so there was a couple of guys that were a year ahead of me on the learning curve so I could learn from them. But it was really, I think, it was Scott Blair I guess that I bumped into Again. I think Matt actually introduced Scott Blair to me. And Scott's one of those guys that's out there. If there isn't something, he's going to fix it, he's going to make it. He's got a service, I think he calls it track auto training. I've done one of his courses actually recently. I'm two years into the business. I'm an expert. I took one of his 101 courses, he asked me to just see if it's legit and I learned stuff.
So he's a great guy and he's out there trying to help the T I A and help others to put standards and practices, best practices in place. But I guess anybody else, I look at people that are successful, that are doing well, guys like Jack that I look up to and try to do what they're doing. We've all seen the guy with a broken truck, a former bread van that's got a gas powered generator. That's not the guy I want to be. I don't take their advice, but I will look to Jack or Andrew Comrie-Picard or the guys that run Zor and I'll pick their brains for how to do it.
Neal:
I've done some really good interviews with Scott over the past few years and Matt graciously introduced us. I wish I had Scott's energy. Scott is a ball of fire.
Jay:
He is. And I like when you call, I get his voicemail every now and then. He doesn't pick up all the time. And I got to listen for five minutes for, this is Scott Blair with Track Tire and he's got five different businesses that he's into. But then when you talk to him, man, he's a ball of fire, to your point. And so is, by the way, his wife Dana, is the damn same way. I think she's more passionate about the industry than he is.
Neal:
Well, so when you're first setting up, and even as you look to today, how do you choose the equipment? How do you choose the setup for the van? I'm sure not every balancer is suited to ride up and down the highway.
Jay:
So again, I mentioned briefly that I originally bought into a franchise. They were an upfitter. They, frankly, they took a design, I don't know if it was a Bush design or an IWS. I don't know. There's a couple of upfitters out there and they'd been out to SEMA. And listen, Go Mobile's got a version. Everybody does it basically the same way. And it seems like everybody has centered on Corghi Equipment now as seems to be what most folks are using and it's just a question of rim clamp or center post. I've got a center post machine, the touchless machine. I think there's some guy, Hunter's out there now with a machine. I think they just showed at SEMA. Believe me, I've been trying to get some of the guys that I know around the country to, hey, try it out, see if it's any good.
I know that the Corghi stuff works. I know guys that have run Corghi center post and rim clamp in a Ford Transit and it fits. It works. And then for the balancer, we're all using the same Corghi. I think it's a 9280. And forgive me guys, if Lee Bruenning from Corghi is listening, I forget what number I have. But anyway, it fits. Yeah. Even the Corghi repair guy who's in my area, I think the first… I did have an issue with the machine. I brought it in and he was a little concerned that it was riding around the back of the van, but I've had it for two and a half years. I just did my own car the other night. It works perfectly. It's takes a beating. I adjust it once a month. And even then, it really doesn't take much adjusting, it's runs this little process.
But again, those guys picked it. I've looked around, I've talked to a bunch of guys that are running a bunch of vans. We are all using similar equipment. It really comes down to use case. I do a lot of high-end. My niche is kind of BMW, car club, Porsche guys, people that track. I mean, I do moms with minivans too. I do do some Amazon fleet work. But the bulk of my stuff is high-end stuff. So the center post machine works for me. I know guys that do predominantly fleet and steel wheels all day long and trailers and a rim clamp machine works for them. And maybe how you were trained or whatever, I learned on this machine and I'm very comfortable with it.
Matt:
Jay, I think Scott is, he's all about Corghi. I think that's what he believes in.
Jay:
Yeah. Yeah, he was big on Corghi. Which was, again, I think when I was doing my research, the Go Mobile guys, they use Corghi. They used, I think it's the Master J26 or whatever it was machine in some of their stuff. And they've do a little bit of everything. Tread Connection had been Corghi all along. I think a lot of the reason Tread Connection, my franchisee, sorry, had Ben Corghi was frankly the support they got from Lee Bruenning at Corghi. Lee's a Michelin guy, he's a Corghi guy. He's a real class act. I'm three years back from when I purchased my equipment and if I could text him right now with a question and he'd call me back in 10 minutes. The support I've gotten from Corghi, above and beyond. So I can't speak highly enough about those guys.
Neal:
Well, you touched on a niche, and that kind of leads me down a path that's near and dear to my heart, and that is choosing what area of the world you're going to work in. How did you arrive at an area of focus?
Jay:
A little bit of luck, I guess. And again, part of the reason I bought a franchise was I didn't really know the tire industry. I didn't know what I should be going after. And they told me what I should be going after and it was wrong. It was just the wrong model. And a lot of their approach, quite frankly, wasn't good for the pandemic, that environment we all found ourselves in. And I've realized kind of quickly, I want to be ecommerce, I want to take the friction out of the whole process. I want to have all my pricing online. I want people to be able to book an appointment online. I don't want to have them to wait for me to call them back. And so I started to implement that stuff.
I mentioned, I know Neal, earlier we were talking, I got involved in endurance racing a few years ago, BMW car club community, SECA guys I knew. So the enthusiast guys kind of knew me. And when I launched and I started to talk about this in social media, they found me really easily. And those groups are very supportive. And if you do the right thing for somebody in a car community, everybody knows. And conversely, if you do the wrong thing, everybody knows.
Neal:
Everybody knows.
Jay:
So I try to do the right thing. I've done the right thing a bunch of times. And so word got out and so it's helped me. I'm in the point now I can be a little selective about the jobs that I take. People call me and now and I listen for a few seconds, I'm like, yeah, yeah, that's not a good fit. You say it's a dirt parking lot and it's a used Toyota, you said? Okay, yeah, we don't even have to get into pricing. I know that it's not going to be a good fit. So a lot of that. And then again, the word gets out. So I do a Tesla and then the next thing you know, I get three Tesla calls. It's funny how that works. I do a Ferrari and two other Ferrari guys call me and it's like, well, that's how it works. And so I just keep trying to do the jobs that I want to do, and three more people find me with the same car or the same neighborhood or whatever.
Neal:
I think one of the places new entrepreneurs struggle is figuring out that niche, figuring out what that specialty is. What advice would you give to someone who's new into the mobile industry and stumbling?
Jay:
I guess do what I did, which was pick up the phone and call guys that are successful at it and ask them for advice. And I know that's kind of hard for a lot of people. I mean, connected with Jack Benzacar of Tire Butler on LinkedIn. I commented on some post that he had and then, I don't know, I think I sent him a message saying, would you mind chatting with me? I was struggling as a franchisee. I didn't know what I was going to do. Am I going to declare bankruptcy? Am I going to, I don't know, go back to my old job. And he spent about 45 minutes on the phone with me. He actually was teasing me because he could hear the air compressor running into my van and I was changing tires at the same time.
But he spent 45 minutes on the phone with me, gave me the most best advice about concentrate your efforts. Who's your perfect customer. In my eye, it's a Tesla guy. He goes, "Just do more of those." And I laughed like, "Well, how do I do more of those?" He goes, "Just focus on them and cold call people if you have to." He said, "You're better off handing your business card out in front of a Starbucks or a Whole Foods to people with Teslas if you want to do Tesla business than you are if you take the phone call and you go fix the flat tire for the guy in the town that you don't want to go to anymore." He said, "Don't do that." He said, "Just go park your van in front of the Starbucks locally or whatever town you want to do more work in." He goes, "Just drive around like the ice cream man if you have to." He said, "Until people start calling you," he said, "They will." I'm like, "All right." So took his advice and it's working.
Neal:
Park strategically, have a pretty clear logo on the side of the van.
Jay:
Believe me. I mean, it works.
Neal:
That's interesting. So thinking about finding the right customer, then you of course have to find the right tire. How do you deal with supply, for one. And then what about e-com? I mean, increasingly people are buying their own tires and having them shipped. How do you handle all that?
Jay:
So the tire supply thing, frankly for me, maybe it's a part of the country that I'm in or whatever, it's pretty dense. So I've got ATD, NTW. There's a large integrated chain up here called Sullivan Tire that your listeners might know of. They've got their own wholesale operation. Tire Rack has a location in Connecticut about three hours from me. So between those guys, and there's a couple others that I could be on with that I'm not anymore. It is just overload.
So they all carry Michelin, I'm a Michelin dealer now. I'm on the AAD program. So I typically, I am loyal to NTW. But in a pinch, I need something overnight or they don't have it, whatever, one of those other guys does. And I do use Tire Connect and I don't get any money from those guys. They want more every month. But I use Tire Connect. It's helpful. I'm in the field, I have a conversation with somebody, I can look up on my phone really quickly. I can see where the inventory is, what the price is. I know I can get it next day. I can shoot them a quote from my phone. So that part works easily. I'm sorry, I lost track of your question though.
Neal:
The other side of that coin is the e-com side and the online purchases.
Jay:
Well, first of all, I'm one of those guys myself. I spent a lot of money at Tire Rack over the years and they run, it's a great website. Frankly, it's a great resource for me. I mean, if somebody asks me a question, I'm like, yeah. And meanwhile I'm on the Tire Rack website saying, if you're looking for a good… Whatever. But I use those guys. I subscribe to Consumer Reports, I read that thing. I'll look at their tire recommendations. There's a group up here, there's a couple of them. I use the Car Talk Guys Click and Clack. They've got a website and they have a great tire section on their website. I use theirs a lot. I'll see what those guys have. And Tire Guide. I'll go anywhere.
Who's the guy? He spells it tyre. It's T-Y-R-E. Tyre something. I'm drawing a blank on the guy's name. But he's a British guy that does tire review. I mean, phenomenal content. I mean, again, my wife will walk into, she's like, "What are you doing?" I'm like, "I'm watching a tire video." She's like, "You're doing what?" I'm like, "I'm watching a tire video. He's testing Goodyear Eagle F1s on a Camaro. It's very interesting." But anyway, that's how I get information about tires. I read all that stuff and Michelin is sending me to another training program up in Vermont this month. I'll be doing snow tire stuff.
But anyway, as far as dealing with the online stuff, I'm listed at Tire Rack as a preferred installer, at Tire Buyer, a few others. Frankly, I set my pricing high enough so that I'm not their first choice. But I'm listed there. So people find me there. I'm tire agnostic, if they buy tires from tire rack or tire buyer, we install them. We set our rates at such a rate that if I sell a tire, obviously I make more money per stop. But if I don't, I'm still covering my overhead to put a set of Tire Rack tires on. I don't compete with… I get calls all the time. Somebody will tell me, "Hey, I bought tires at Tire Rack, they shipped it to a big box installer."
Neal:
They shipped to a retailer.
Jay:
Okay, a big box retailer. And the big box retailer doesn't do, oh, we don't do low profile. What profile are they? They're 65. I'm like, okay, well I can handle that. Or 50. I'm exaggerating. But the big box retailers will be $20 mount and balance. Their game is get the guy in and, hey, maybe we can get an alignment and a break job and a muffler out of him too. That's not my business model. I need to make the money that I'm going to make on doing their tires and their tires only. It's a fair number in my mind. A lot of people seem to agree, but I don't compete with the discount online retailers either on the tire pricing or on the install rate.
Neal:
Yeah. Well, I think at this point, especially with DoorDash and all the different services that will bring products to you and services to you without leaving your home, I'd have to feel like consumers are increasingly used to spending more money for that convenience.
Jay:
Absolutely. And they do. I like the idea of shopping online. I mean, I do. The holidays. Amazon. I mean, I don't go to the mall. My wife loves to do that stuff, the kids do. I can't. So same thing with tire stuff or my car equipment. Everything, most of the stuff I'll do is online. So my website is, it's not the greatest ecommerce site you've ever seen. It's a relatively inexpensive GoDaddy website, but with a decent tire picker on it. That's what I call it. The tire connect thing. It works. I get orders. It's not like the fax machine is whirring behind me all day long.
But every week I get several orders from people I've never spoken to who went online, they shop my pricing, they hit the buy now button, and I show up at their house. They scheduled a service online and I show up and install the tires and they think it's the greatest thing since sliced bread. It's not the best website, but it works. It does the job. And so I'm trying to compete with Tire Rack and those guys for that convenient customer. Once people are aware that, frankly, that we sell tires, they're like, whoa, great. They know I'm going to make a hundred bucks on a set of four tires. They'd rather I make the a hundred bucks than the ecommerce guys anyway. So it's win-win in their mind.
Neal:
I'm sure also, I don't want you to sell yourself short in that sales process, I'm certain they're looking at your reviews too.
Jay:
Yeah.
Neal:
So you've got a pretty serious track record. What's your secret?
Jay:
I don't know. I think at the end of the day, like people used to ask me, I think I took a job as a sales manager at one point, and when I was interviewing for it, I didn't have any sales management background. They're like, well, how are you going to be a sales manager? I'm like, well, I know what the bad ones were like. I know what I wanted my sales manager to be to me, and I wanted to be the same way. And it's the same thing on this end.
I've had horrible experiences at tire shops and repairs and everywhere. I've had great experiences at tire shops and repairs. There's a chain near me, Direct Tire. Barry Steinberg, who was an innovator in the industry, ran Direct Tire. Unfortunately passed away two years ago. Barry ran an unbelievable business and I always enjoyed, I looked forward to, oh, it's tire season, I get to buy tires. So I wanted to emulate a little bit of what Barry did and other easy and fun places to do business with. At the end of the day, we're not saving lives here. And if somebody's, the five bucks that they might save at Costco, if that's important to them, go there. Go.
Neal:
That's not your customer.
Jay:
Yeah, it's not my guy. So anyway, I treat people the way I want to be treated. There are times when I've done things that maybe don't make sense to someone where I don't charge somebody for something. Because I feel like that was my fault. I forgot to bring the… And I showed up without a tire figuring I could fix someone's tire. And yeah, hey, what do you know? There's a nail on the side wall. I can't charge you. You don't know. So that kind of thing I've done a lot of. Anytime the tie goes to the runner judgment call, should I ding this guy for another 25 bucks because he made me wait because he couldn't find his locking key, or should I just be gracious and live to fight another day. I tend to take that approach and it's so far, it seems to be working.
Matt:
That's the right approach. I fully subscribe to that approach as well. And to what you said earlier in our call here with you about the other mobile guy that got twerked a little wrong way because he went out for an appointment and he got stood up and he went back to do it so he banged him for a inconvenience fee, then he got a one-star review. The karma on that deal just went completely back around and didn't work out for him. So your approach is the right approach in my opinion.
Jay:
And again, at the end of the day, I'm kind of lazy. So if I've got five or six appointments and somebody cancels on me at the last minute for the day, honestly, it's like, oh, good. Now I get home for dinner. So really, it doesn't bother me. I suppose if I only had one appointment for the day and I needed to make payroll and that one canceled, that might be a problem. But I'm in a position where one thing here or there isn't going to make that much of a difference, and that's the approach I take.
Neal:
Well, Jay, I'll wrap things up by asking you to give us a prediction, especially this being January, certainly time to look forward. But what do you think the mobile tire industry's going to see in the next five years?
Jay:
Man, well, I don't think it's going to be adding oil changes to your repertoire. I don't think that's the way to go. And people ask me all the time, do you do oil changes? Like, nope. And I'm not going to. I think electrification is the way it's going to go. And I know it's kind of like a litmus test. I like stuff that makes noise too. But electric cars are kind of fun to drive. I don't know if anyone's ever driven one. It's the way the industry's going to go. I love them and the fact that, I mentioned earlier, I have a bunch of Tesla customers now I've picked up. They eat tires. I love it. They eat tires. Every 10,000 miles. They need $400 foam filled, huge tires. Awesome. Love it. They're good on brakes and they don't use any oil. And so I think the industry's going to obviously go that way.
And part of their model, obviously they have their service centers, but they have a mobile business and they've trained their customers to sit at home and somebody shows up and I don't know, waves a wifi wand and fixes their car. But when it comes to the physical stuff though, they do have to go to the service center, or they have to wait for the guy to show up to do the tire thing and it's not convenient. And they got used to convenient and hey, there I sit. So as GM, I have some friends that work for General Motors as they go big with electrification, they're pushing their dealers to add a mobile component to their service offerings. These big Taj Mahals that they have of service centers and showrooms, they're going away. They don't need the $10 million Taj Mahal Marble showroom anymore when people can order the car online. And then the service is done over the airwaves these days, but they still need some of the physical stuff, the tire thing.
So I think you're going to see more manufacturer incentive in pushing dealers in that direction to go that way. Dealers, I think car dealers are one of the most innovative groups in the country. So I think once they… First like anything else, they're going to go, oh God, this is some other dumb thing we got to do. But some of the smart ones, I think, are going to go into it in a big way, the way they always do stuff. And right now, there's no 800 pound gorilla in that space, but I think some… What is it? AutoNation just bought RepairSmith for 190 million bucks. There's an 800 pound gorilla that could be coming. Those guys might figure out that mobile tire works in the electric vehicle market. Somebody else might figure out that tires work in the electric vehicle market and then go into it in big way as well. So that would be my bet.
Neal:
I like your bet. I think especially from the outlook of the independent, it seems like in the mobile tire business, one of the biggest challenges is educating the consumer. Hey, we exist, we do this. It's better. And allowing the dealers to bear the cost of that education, I'll be interested to see. I bet you're right. Over the next several years, it'll play out to, frankly, your advantage.
Jay:
Yeah. Well, they say, what is it? The rising tide floats all boats.
Neal:
That's right.
Jay:
So again, if Goodyear or put Roll in Boston. Tire Rack, they've reached out to me to ask if I'd be interested in working with them as they've got two mobile vans that run out of their warehouse in Connecticut. It's three hours for me. They don't do anything in my market, but eventually they will. But to your point, all it's going to do is just raise awareness and here I am with five star reviews and hundreds and hundreds of happy customers. It's just going to snowball from there for me.
Neal:
Yeah. Well, congratulations on your success.
Jay:
Thank you.
Neal:
We've been talking to Jay Condrick of Boston Mobile Tire. Jay, where can people learn more about Boston Mobile Tire?
Jay:
At, believe it or not, bostonmobiletire.com.
Neal:
I love it. All right, Jay, thank you so much.
Jay:
Thank you.
Matt:
Thank you, Jay.
Announcer:
Thanks for listening to the Gain Traction Podcast. We'll see you again next time. And be sure to click subscribe to get future episodes.