Eliminating Fear From the Payment Process With Chris Talevi, Vice President of Sales at PayTomorrow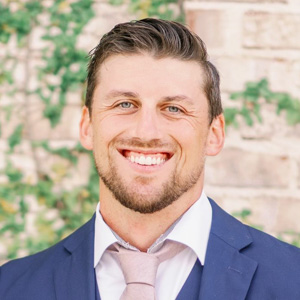 Chris Talevi is Vice President of Sales at PayTomorrow, a fintech company with a unique financing model designed to offer businesses a full credit spectrum platform to their consumers. Chris was Ticket Office Manager at Davidson College, his alma mater, before becoming a part-time tire changer in NASCAR with Stewart-Haas Racing. He joined PayTomorrow in 2016 as a Senior Account Representative and was promoted to VP in early 2021.
In this episode…
If you are a tire or custom wheel dealer, you've probably struggled with payments in some form or fashion. Are you afraid your promising new customer will get denied, or afraid you might insult your customer by recommending a particular financing option? According to PayTomorrow's Chris Talevi, his company's platform helps solve these problems by evaluating every customer on their repayment history and ability to repay, allowing dealers to fine-tune an offer that works for them.
On this episode of Gain Traction, Neal Maier and Matt Peters welcome Chris to discuss ways to simplify the payment process for tire and custom wheel dealers and their customers. Chris explains how PayTomorrow takes the fear out of proposing a payment plan to an individual customer and why business owners should consider using the platform. He also talks about his experience as a tire changer with NASCAR. Don't miss it!
Here's a glimpse of what you'll learn:
Chris Talevi explains how his wrestling background helped him become a tire changer with NASCAR
What is PayTomorrow, and how does it work?
Chris describes how PayTomorrow's three-tiered credit rating system works
Why tire dealers should consider talking to PayTomorrow
What increases will business owners see after embracing the technology and platform?
Why PayTomorrow ultimately exists
Resources mentioned in this episode:
Transcript
Announcer:
Welcome to the Gain Traction podcast, where we feature top automotive entrepreneurs and experts and share their inspiring stories. Now let's get started with the show.
Neal Maier:
Hi, this is Neil Maier and I'm joined by Matt Peters. We're host of Gain Traction where we talk to top business leaders in the automotive industry about their journeys, their companies, and their impact to the industry. Before we jump in with today's guest, this episode's brought to you by Tread Partners. Tread Partners is the home of retread. Our new digital customer re-engagement program by using targeted ads and communications will help you win back to your best lost customers and even guarantee a 10 X R O I. So what are you waiting for? Contact [email protected]. Today we're joined by Chris Talevi, vice president of Sales at Pay Tomorrow, a FinTech company that's quickly changing the landscape for tires, wheels, and financing. Chris, welcome to 'Gain Traction'.
Chris Talevi:
And I appreciate you having me, Neil, honored to be on.
Neal:
Well, Chris, let's jump right in and talk a bit about you. How did you get started in the industry and then we'll jump in. Jump on to pay tomorrow.
Chris:
Yeah, sure. So honestly Neil, I fell backwards into this space when I started with Pay Tomorrow. I was actually working in NASCAR part-time as a tire changer for Stuart Haas and you know I didn't really know what to do. It was kind of a part-time job, but I was a little older than some of the up and comers and saw the writing on the wall and figured I needed to get a different job. And my best friend's dad, who's actually been a great mentor for me and chat out Don Patrick, said a friend was running a startup. I needed some help getting it up off the ground, so I was hired as employee number four, didn't really know anything about payments e-commerce. So we started out, I was wearing a bunch of hats you know from customer service to tech development to collections, to now helping the sales team and you know been really lucky that growing with the company and payment options are becoming more and more important in this industry. So you know excited to be part of this journey and see where it takes us.
Neal:
Well, I've got to back up a minute. How do you become a tire changer for a NASCAR team?
Chris:
So I went to school in the Charlotte area, small school, Davidson College, which is probably best known for Steph Curry, but I wrestled there and tire changers, they got to be strong and they got to move in awkward positions you know talk about a wrestling pedigree, and that's basically what wrestlers do and head of PIT development, Joe pt, I guess saw me wrestle and reached out, said, Hey, 'we'd like to bring you in for a tryout'. And it was a legit tryout. I was competing against guys who had just gone from the NFL combine and didn't get picked up by a team. I was like, wow, this I am out of my league. But they gave me a developmental contract and I was the backup to a backup. So a lot of people had to get hurt before I was changing Tony Stewart's tires on the 14 car. But it was a great experience, honestly, best job I've ever had. Loved working with those guys. I was basically paid to be competitive and work out with my friends mean it was honestly a great job. I loved it.
Neal:
That's an incredible segue into the tire industry,
Chris:
Isn't it? Right. Part of my job as pit support was running tires back and forth.You know taking the used ones back to the Goodyear truck and glue lug nuts on tires. So I mean, it was pretty cool how it comes full circle.
Neal:
Matt, I don't know about you, but my recruiting process into the tire industry wasn't quite as glorious.
Matt Peters:
No, no. I got started in the tire industry myself, working in a wholesale distribution warehouse you know delivering tires and eventually working my way in the sales. So no, not as exciting. I did wrestle when I was in high school, so
Chris:
There we go there we go
Matt:
Wrestling was a lot of fun. Wrestling and football.
Chris:
NCAA championships are going on right now, so it's a great opportunity for our sport.
Neal:
All except the Tar Heel fans.
Chris:
Now. Come on Neil. They've got stud at 157 Austin O'Connor he is number one in the country. Be on the lookout for him. He's a tar heel.
Neal:
Give it time.
Chris:
There you go. There you go
Matt:
Knocked out by Princeton last. So
Neal:
Yeah, it's a quiet Friday in the south. Chris, let's talk a bit about payments. It's every tire dealer. Every custom wheel dealer I believe struggles with this in some form or fashion, and the struggle to me is one, the fear of presenting it to the wrong customer or the fear of you're a great new customer, getting denied, finding a fit, or suggesting a finance product that insults them. So I believe Pay Tomorrow has a path to help with all of that. Tell us a little bit about what Pay Tomorrow is and how it works?
Chris:
You know, hit the nail on the head, Neil and really Pay Tomorrow is designed to kind of consolidate the multiple pay over time options into one application. We like to think of ourselves as a Waterfall platform, so you know really taking a customer and evaluating them on their specific repayment history and ability to repay so that we're able to fine tune an offer that you know works for them. So treating each customer specially and individually so that they get an offer, they're more likely to accept and repay so that everybody's happy right. So merchants in the tire industry are really able to provide a payment option that doesn't gouge the customer. So you're more likely to get repeat business and happier customer and that's honestly what it's all about.
Neal:
You mentioned a waterfall process. How's that work?
Chris:
Yeah, so it's pretty slick technology. I wish I could say I had a hand in that, but our CTO's done a really great job with developing a three-tiered system. So when a customer goes in and applies, we basically do a soft underwriting check and put them into a prime credit, a near prime or subprime category, and we show them an offer with repayment terms you know customized to that category. So really our bread and butter is in that near prime kind of customer. The market is pretty saturated with a lot of folks dealing with prime credit, which is the 700 credit score and above.
And then there's a bunch of the no credit needed options who are dealing with folks with very challenged or troubled repayment in their past and pay tomorrow really kind of bridged the gap between the two of those. So we treat the 600 to 700 level customer a lot better than a no credit needed or a lease to own option. So we do have a program that facilitates that. No credit needed customer, but the benefit is if a customer has higher criteria or higher a credit score that would allow them to have a better rate than we give that customer something that's more appetizing.
Neal:
Now, one of the toughest parts of running, especially a retail shop, is having time to research and entertain other options. And I personally was guilty of overlooking some, sometimes the obvious, but also just we had a payment option, it was covered in dust and underneath the counter, but we did have it. Why you know if a dealer already has something in place, what would you tell them? Why are they ought to consider talking to you?
Chris:
So we want to have a service that consolidates kind of what they're already doing and to your point a couple questions ago about you know maybe providing an option that's embarrassing for the customer or you know customer gets declined and then you have to try another option or another option you know pay tomorrow does that behind the scenes for you and basically keeps the customer with an efficient payment option. And the salesperson, it's an instant credit decision, so it's not like you're having to pick up the phone and call anybody. You simply put in a few pieces of information and know how much that customer can spend, which obviously has its own advantages as well when you know buying tires is a need-based purchase typically.
So they're in your showroom, you want to maximize that customer being in front of you. So hey, while you're here Mr. Customer, let's get you the set of tires that you actually want instead of what you feel like you can afford or the accessories or other service components that they need to take advantage of while you're right in front of them. So for business owners it makes sense to have kind of a one stop shop basically for payments Pay Tomorrow is a great option for that.
Neal:
When you look at adopters, right, shops and operations who have really embraced the technology and the platform, I have to imagine that you see a substantial increase in hopefully revenue, but what do you see as a result?
Chris:
Yeah, so shop owners will see, like you said, the increase in not only point of sale revenue but also repeat customers, right? Because we've got a payment option that's not only relatively easy to use but doesn't gouge the customer and doesn't kind of make them feel that they've been taken advantage of, which I feel like is a kind of unfair stigma that maybe is on the industry and people want to make sure that they're being taken care of and being treated fairly, and that's what a good service writer is going to do, and that's what Pay Tomorrow tries to help that service writer do. Our payment option is really just a service tool that helps the shop put its best foot forward and try to approve and convert as many customers as possible. So you see an increase in AOV, you see an increase in conversion and I would imagine the service writers would appreciate that as well.
Neal:
Sure. You touched on something that I think is really key and ultimately that's the experience as if independent tire dealers and auto repair shops, custom wheel dealers, that experience is paramount. I mean that's their brand
Chris:
And we really cut our teeth. We kind of did it backwards. We started with e-commerce payments and as you guys know in the digital marketing space, the back button is your biggest competitor, and so you want to make sure that you're creating an experience for that customer that keeps them engaged, keeps them going through the funnel. And we just brought that over to the brick and mortar piece and it was kind of a necessity, right? Innovation is the mother of necessity, so we wanted to provide that same experience that we had online as in store.
Neal:
It makes total sense to me. Well as Pay Tomorrow expands and grows, of course there's a solution for in-store. Right, and you touched on e-commerce as well, so if I want to you know start selling tires online or want to add it to what I'm already doing, I assume there's an integration path there.
Chris:
Yeah. There is we've got a few of the shopping cart we call them plugins that you know are very easy to install right from there, marketplace. Then we also do custom API integrations for more complex sites. We've had some really great partners in the industry, especially in the online world like BB Wheels, Tire Agent, Tire Buyer, Extreme Customs, and they're all great to work with and have been really solid in helping us fine tune our integration pieces as well.
Neal:
You mentioned Tire Agent I'll have to put a link back to our interview with Jared.
Chris:
Oh yeah. Okay, great. I didn't know he'd been on here.
Neal:
Yeah, really, really proud of what he's built and yeah, they're certainly glad to hear that you're partners
Chris:
And he's really leveraged payment options to work in his favor and really commend him for kind of taking the bull by the horns and saying, Hey, everyone's doing it this way, I'm going to do it this way a different way.
Neal:
No, yeah, Jared,
Matt:
Jared's a friend of mine as well. I think I actually introduced him to Neil. So Jared and his family at one time had a successful wholesale business in tires based in Long Island in Philadelphia. So yeah, kudos to Jared. He is really, I've seen that business evolve. He originally started out as a mobile tire van business and then grew into this tire agent.com online. So yeah, he's done a good job. Glad you guys are hooked up with him.
Chris:
Yeah, and it's pretty cool with so many more customers buying online and the Pandemic really forced customers to get used to buying online and got accustomed to the convenience of it. I think we're going to see a big resurgence of the mobile tire installers and really taking advantage of the convenience that customers are looking for, not only with tires, but making sure that they're taken care of right there from their home. And I think it's pretty cool.
Neal:
I agree. I agree. We've had a few guests along the way. Also focus on mobile. It's certainly emerging and there's some exciting developments there. So look forward to a few episodes on the way, on the way.
Chris:
Great about that. Great. I love it. Well,
Neal:
Chris, anything in this process that you wish people knew about Pay Tomorrow that we haven't covered?
Chris:
I guess the big takeaway, Neil, is we're here to serve members of the tire and wheel industry. They're there to serve customers and we're there to serve them. And I think especially in the auto industry, it's filled with a lot of great people. I was at at SEMA for the first time in November and I was like a kid at a candy store. I mean, that place is awesome, but makes some great relationships and people are always willing to help out and we're just trying to help them put their best foot forward and be most successful and efficient business as possible. So we're here for you. It's kind of the message
Neal:
That's a perfect approach. Well, Chris, as people learn more or want to learn more about Pay Tomorrow, where should they look?
Chris:
Yeah, so pay tomorrow.com. So P A Y T O M O R R O W.com. And then email me directly at [email protected]. And Charlie Tango, alpha Lima, echo, Victor, India for those who have trouble spelling my name.
Neal:
That's perfect. You and I share that pain, so I appreciate that.
Chris:
yeah I have to get that down.
Neal:
Well, we really appreciate it and today we've been joined by Chris Tolevy, VP of Sales for Pay tomorrow. Chris, thank you for your time. Matt, thank you guys for joining us on Gain Traction. Yeah,
Chris:
I appreciate you. Thanks Chris so much.
Announcer:
Thanks for listening to the Gain Traction podcast. We'll see you again next time and be sure to click subscribe to get future episodes.