The Value of Experienced and Empathetic Leadership With Kyle Blankenhorn of Ken's Tire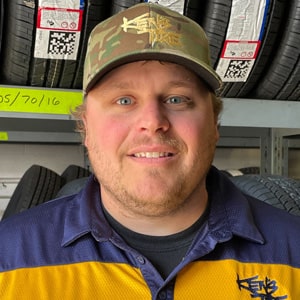 Kyle Blankenhorn came to Ken's Tire as a tire changer after serving as a small-town Iowa police officer and working for TSA at the Eastern Iowa Airport in Cedar Rapids. His grandparents founded Ken's Tire, with three locations in eastern Pennsylvania, and Kyle — who has managed two of the stores — is now helping run the successful third-generation business. He attributes the success of Ken's Tire to the longevity of the staff and their ability to learn from mistakes.
---
In this episode…
In recent years, staffing and supply chain issues have been prevalent throughout the tire and auto repair industry. According to Kyle Blankenhorn, empathetic leadership is essential in overcoming the staffing shortage.
Kyle says Ken's Tire has recently hired employees coming directly out of high school or vocational school, and, like all new employees, they tend to make mistakes. Fortunately, Kyle has been in their shoes and made the same mistakes. That experience enables him to review the problem with the new staffer, figure out what went wrong, and how to move forward.
On this episode of Gain Traction, Neal Maier engages Kyle in a conversation about the trials and tribulations of running a tire and auto repair shop. They discuss ways to overcome staffing problems and supply chain issues and the keys to success for a group of three stores in business for almost fifty years. Kyle also shares his non-traditional journey toward working in a third-generation shop. Tune in!
Here's a glimpse of what you'll learn:
Kyle Blankenhorn details his long journey into the tire business
Why Ken's Tire has been successful over the past four decades
The importance of being an empathetic leader
Kyle speaks on the reasons behind recent supply chain issues
How Ken's Tire has changed as a result of supply chain problems
What is the best piece of advice Kyle received from his father?
Resources mentioned in this episode:
Transcript
Announcer:
Welcome to the Gain Traction Podcast, where we feature top automotive entrepreneurs and experts, and share their inspiring stories. Now let's get started with the show.
Neal:
Hi, this is Neal Maier. I'm the host of Gain Traction where I talk with top automotive business leaders about their journeys. I've had the great fortune to interview lots of founders and CEOs with some great stories, and today's guest has a truly interesting path into the tire business. Before we jump in with today's guest, this episode's brought to you by Tread Partners. Tread Partners is the home of Retread, our new customer re-engagement program. By using targeted digital ads and communications, we'll help you win back your best lost customers. So what are you waiting for? Visit us at treadpartners.com. Before introducing today's guest, I want to give a big thank you to Chrissy Zelers of Accelerate Personalized Sales Solutions. Go check out Chrissy's website at acceleratepss.com, where she helps tire dealers just like today's guest, by maximizing returns from manufacturer marketing programs. Today, I'm joined by Kyle Blankenhorn of Ken's Tire, a tire retailer with three locations in the Eastern Pennsylvania. Kyle runs a highly successful third generation business, and I'm excited to jump right in. Kyle, welcome to Gain Traction.
Kyle:
Hey, thanks, Neal.
Neal:
So Kyle, you have an interesting path into the tire business, and I think when most people hear third generation, just like me, I automatically assume that about 12 years old, you woke up one day and had a job in the tire shop. Tell us how you really got into the tire business.
Kyle:
Yeah, a lot of people will assume that. So interestingly enough, I actually grew up in a small town in Iowa, a little town called Norway, Iowa, 450 people. We have one stop sign, no lights, it's heaven on earth, and I really miss it. I really like the small town Iowa vibe. So I grew up there, I went to school, got a degree in police science, did an internship with a small town police department right near where I grew up, where everybody you pull over is either your football coach or your girlfriend's dad or whatever. I mean, there's not a lot of good scenarios that come out of traffic stops like that. So I gravitated away from being a small town police officer and I actually got a job at the Cedar Rapids Airport doing with TSA, with the Department of Homeland Security, checking bags. And that was actually a really great job, and I was there for a couple of years, and there it started to get to be where there was just, for whatever reason, I decided that I was going to leave. And my dad had been involved.
My dad actually got out of the tire business for a couple of years, and for whatever reason, was called back into it. And he had been back into business since 2008, and this is 2013. And I told him, "I'm going to get out of working for the government, and I'm going to go back and just changed tires for six months. I'm going to live with my grandmother and then I'm going to come home," because I really did not have any intention of leaving Iowa, and I would love to go back. But I moved to Pennsylvania and was going to change tires for six months, and I met a girl and never left. But I started changing tires at one of our stores, and then by default, just moved my way up the line, and we had a manager at a store that was sick, and I filled in there for a couple of days, and it was supposed to be a couple of day deal.
And then I ran that store for, I think, four or five years. Then I ran one of our other stores because it needed some attention, but then I had to come back to the store that I left because when I left, it kind of went south a little bit. And then in the last two years, I've gravitated down towards being my dad's kind of right hand man. He's getting a little older now and starting to take some more time, rightfully so, it's well deserved. He's still very much a part of the business, he's still very active, he's still very present. He loves to show up and tell me what I'm doing wrong, and pat me on the back, and give me good [inaudible 00:04:59] solid words of encouragement.
Neal:
That's the best kind of advice you can get along the way, is a good pat on the back, but also a good direction on where you've missed an opportunity. Right?
Kyle:
Yeah, yep.
Neal:
Well, thinking about Ken's and certainly, I mean, seeing that it's a family operation, what's made Ken's successful through the years?
Kyle:
Well, I would to say that that would be a combination of two things. The first thing would have to be our employees, our staff. We have a lot of people that just do a fantastic job, and they've been doing a fantastic job for a very long time. Doug, our general manager, he's been with us for 31 years, as long as… Actually, the first couple of years, my grandfather just paid him cash to change tires after school. So he is actually been here 33 years as long as I've been alive, and he does a great job. There's a couple other guys that are north of 20 years. There's a bunch of guys that are north of 10 years.
So our employee employees and the longitude that we've gotten out of a bunch of really good guys has helped make us really successful and consistent over the years. And then the other thing that would make us successful would definitely, I would have to say, be our failures. We don't tend to make too many mistakes, but when we do, we definitely learn from them and move forward. The guys that are here that have been here a long time, we have a great relationship and we'll tease each other a little bit and move forward.
Neal:
I've heard a rumor that sometimes if you buy some inventory that doesn't move, that the guys like to pick on you about your failures there.
Kyle:
Yeah, sometimes I'll buy a skew that'll sit and it should move in three months, and it moves in six months, and Doug or my dad will pat me on the back and say, "Oh, you can use them to grow tomatoes if you have," or, "You could probably make a coffee table out of those if they don't sell," and it's only a matter of time and they all go. And it's funny how you think you're going to sit on one skew and you think, "Oh man, it's going to take me forever to move them." And then I'll be walking through the warehouse a week later and I'll go, "Man, where did they go?" And well, it's only just joking between us, but they definitely don't let you forget, I can tell you that.
Neal:
No, I mean, think that that's a key part of building the right atmosphere for your team is everybody's going to have a little fun along the way. You mentioned to me that you've got a saying about business, you recall what that is? Think [inaudible 00:08:18]-
Kyle:
Yeah, so for me, I have a simple saying that business is very elementary. You just treat people, it's just the things you learned in elementary school. You treat people the way you want to be treated, you're honest, and you just work hard. And a lot of people can, you over-complicate it or get it as much as you want, and you can stress yourself out like crazy. And I've done it, so I just started saying that, and repeating it over and over. And it's just something that I've molded into our store managers, "Don't get too upset, don't get too overwhelmed." It's elementary, "Treat people the way you want to be treated. Be honest and work hard."
Neal:
It is that underlying foundation, that, "Do the right thing, do a good job, and success will follow," that sounds like Ken's Tire has kind of embodied that.
Kyle:
We're very fortunate. We're very fortunate in a lot of ways, and we've had some great fortunes, but we've learned from our misfortunes as well.
Neal:
Yeah, no, I think that's key. Every business, in every operation, and especially in the tire business and auto repair business, there's so many opportunities to make mistakes. And ultimately, how you handle those, how you deal with it from the employee's perspective, from the customer's perspective. I mean, that says a whole lot about what kind of business you run.
Kyle:
Well, boy, you don't have to look very far to find an example of moving forward or finding of a mistake that maybe could have been avoided. The other day, it was a Saturday morning, and there were, I don't know, we line cars up to get them in line for tires and oil changes. And there had to be 20-some cars in line on the Saturday morning, which is actually normal, believe it or not. And we could have avoided this by thinking about it a little bit more, but we had a new oil because now every new car's taking new oil, now there's [inaudible 00:10:54] zero 16. So we put in a new tank.
Well, when we put in a new tank, we didn't realize that the airline was going to be behind it. Well, things happen, right, so that airline burst. Well now, I have 20 cars in line, and my airline, I have no air. So yeah, I could have avoided that situation, and I took a brand new hose and had to cut it and bypass it, so I had to cut it to free the fittings and just bypass it to get me up and running back through. But yeah, you can definitely learn [inaudible 00:11:34].
Neal:
It is things like that that even the best laid plans things, it's a complicated business thing. Things will happen, things will go wrong, and I believe it all comes down to just, as a leader, how you handle it.
Kyle:
Yeah, so the employee situation was an interesting thing that a lot of people faced in the industry. I'm sure you've heard a lot of people, "Nobody can find help, da da da da da." And we've had to, just like everyone else, maybe resort to some of the kids straight out of school, or out of vo-tech or whatever. And consequently, they're going to break a couple things along the way. I know I did when I started changing tires, right?
Neal:
Yeah, you were there, you went through this.
Kyle:
I was there, I did it, right? I always tell people, "There's nothing you can break in this building that I haven't already broken and fixed at one point or another. I can tell you what you did wrong because I've done it. I can tell you how you ripped a beat on that tire because I've done it. I can tell you whatever." So whenever the young kids come in and they break something, I'll pull them aside and I'll say, "Do you know what you did wrong?" And they'll say, "Okay," and I'll explain it to them in depth of what they did wrong. And I'll say, "Now, what did you learn?" "Well, I learned not to do it that way again." I said, "Good, everybody gets one. One, don't happen again." But learn from it and move forward. And it's hard, it's just hard nowadays. Cars are getting harder to work on, and yeah, it is what it is.
Neal:
Yeah, no, it is. Well, I mean speaking of challenges, I think with supply chain and shipping and tire inventory, we've had two and a half years of really complicated supply chain issues. Talk a little bit about what you're seeing now.
Kyle:
Well, we've had two years of, complicated is the best way to put it, just all around, man. It's been really interesting in a lot of different ways. But shipping, as far as the shipping goes, so the containers that we've ordered over a six-month span, the shipping times are getting better, which is great, except for the stuff that you ordered 120 days ago and the stuff that you ordered 90 days ago, all of a sudden caught each other on the water, and now you're getting deliveries, they're showing up to your door at the same time. So the containers that I ordered over a four-month span, I received within four and a half weeks. So remember I was saying about the, Doug will say, "Man, boy. Oh, they let me have it too." They say, "Oh, man, you got a lot of this. Man, we have a lot of this."
And I'm thinking, "Yo, I didn't order it like that." I ordered it four months, with a three month-gap, because I'm expecting to sell half of those units by the time the next container comes. Boy, they came all at one time. And I know that I'm not the only person that that's happened to because there's a lot of people that are starting to come knocking with, "Make me a deal. Get some of this inventory off me." I think a lot of people, physical space is a real issue, especially for some of the bigger dealers. The bigger dealers that operate more at their full capacity, they don't have anywhere to go with them. And you can't exactly put an $80,000 container and just stack it outside and expect it not to walk away, at least where I live.
So it's definitely a challenge. Now we're very fortunate that we had a little extra space on capital to absorb that, but there's a lot of folks that are going to be knocking on doors trying to, and I'm seeing it even with the pricing. The pricing is dropping because everybody's rich on inventory right now. And really, I'm going to hold mine, I'm not going to deal mine off right now. I may be wrong, and we'll see. But I think that when these SKUs are gone, you're still 90 days out on what's coming behind that. And within my projections, we're still going to run through most of it. And nobody wants to have any inventory at the end of the year, and I get it. And we're going to run through most of it, but if we sit on a little bit, come tax time, it is what it is.
Neal:
Yeah, because I'm sure it's like a wave, right? Whatever's right behind this wave, there's a trough soon to follow. So you might as well take advantage of it if you can right now, and keep good inventory, and maintain margins and proceed on.
Kyle:
Yeah, we haven't changed much. Well, I think we did reduce our pricing on a couple of SKUs, but for the most part, it's just been business as usual. And we're pretty fortunate to have a great customer base, and we'll move through them. We're really not that worried about it.
Neal:
That's good, that's good. That's a great, great approach, especially look to, who knows what 2023 will bring?
Kyle:
Man, I hope it starts to clear up. It's going to be interesting for sure.
Neal:
Well, along the way, I feel certain that your dad's given you a ton of great advice. Thinking about him being key in not only the success of Ken's Tire, but also your success. What's a piece of advice you lean on that he's given you?
Kyle:
Well, there wouldn't be a Ken's Tire if it wasn't for him. And there's been, like you said, countless great advice and some of it is from a dad's perspective, but the greatest business advice that he ever gave me, if I had to say the best business, just one liner, was, "Buy the best accountant that you can afford and the best lawyers that you can afford," period. And they'll keep you out of trouble, and [inaudible 00:18:33] I think he said to me, "You're not smart enough to understand it the way they are, so just pay them to do it." And that was just his way of saying, "Just don't worry about it, and pay somebody else to take that headache from you."
Neal:
When I first got my start in business, I received a really similar point from one of my mentors, and looking back on it, being able to rely on your accountant, your attorney as a partner, being able to rely on them for advice, being able to have that sounding board when you need help, it's invaluable. This business is hard enough, and you certainly don't want to go [inaudible 00:19:20] it all alone. I think that's some tremendous advice from your dad.
Kyle:
He's a smart guy. He likes to claim to be just a high school educated dog farmer from Norway, Iowa, but he's smarter than he knows.
Neal:
I think he's had a few successes along the way.
Kyle:
Yeah, it's hard to argue with him, I can tell you that. Every now and then, I want to. But I look around at what I'm standing in and what we've accomplished, not only what he built, but in the last few years, what I've helped him to build. And boy, it's very hard to argue with him.
Neal:
Well, Kyle, it certainly sounds like you've got the right foundation for the future, and the future for Ken's Tire certainly seems awfully bright.
Kyle:
Well, thank you very much for chatting with me today.
Neal:
Hey, I appreciate it. We've been talking to Kyle Blankenhorn of Ken's Tire. Kyle, where can people learn more about Ken's Tire?
Kyle:
Kenstire.com is our website, and the best thing to do, I tell people on the phone, is just stop down and see us. If you ever want to chat or ever come in, or just say, "Hi," just stop on in.
Neal:
Fantastic. Well, Kyle, thanks again for joining me on Gain Traction.
Kyle:
Yep, thank you.
Announcer:
Thanks for listening to the Gain Traction Podcast. We'll see you again next time. And be sure to click subscribe to get future episodes.