Tires and Technology in Tandem With Kevin Marley, Managing Director at E-Solution Professionals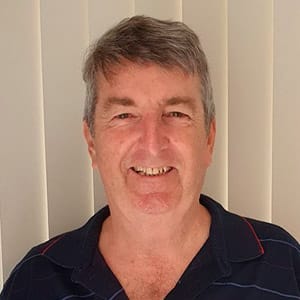 Kevin Marley is Managing Director at E-Solution Professionals, who has been developing e-commerce software for the tire industry since 2001. He has worked in the tire industry for more than four decades. Throughout his career, Kevin has worked in positions including store manager, warehouse manager, State Manager for Toyo Tires, and Regional Manager for Goodyear Australia.
In this episode…
In an industry that is slow to embrace it, how has the tire business been changed by technology? In what ways will technology continue to change the tire industry moving forward? For some unique insights on tires and tech, check out this episode of Gain Traction!
According to Kevin Marley from E-Solution Professionals, data mobility will be increasingly discussed in the tire industry. He says ESP Solutions continuously transmits data on their clients' behalf that their clients may not even be aware of. Kevin says there's a multitude of other ways technology will change the industry.
On this episode of Gain Traction, Neal Maier and Matthew Peters talk to Kevin about the ways the tire industry has been improved by technology and the changes that are likely to come in the near future. They discuss tire data, data mobility, electric cars, how to handle differing product codes, and the importance of keeping your word. Don't miss it!
Here's a glimpse of what you'll learn:
Kevin Marley discusses his 45+ year journey in the tire industry
How E-Solution Professionals came about
What does Kevin see happening for ESP Solutions in the next five years?
The steps Tire Web took to effectively manage tire data
How ESP Solutions deals with similar tires that have different product codes
The best advice Kevin has ever received
Resources mentioned in this episode:
Transcript
Announcer:
Welcome to the Gain Traction podcast, where we feature top automotive entrepreneurs and experts and share their inspiring stories. Now, let's get started with the show.
Neal Maier:
Hi, this is Neal Maier. I'm here, along with Matt Peters. We're hosts of Gain Traction, where we talk with top automotive business leaders about their journeys. I've had the great fortune to interview lots of founders and CEOs with some great stories, and I'm incredibly excited to tell you about today's guest.
First, this episode's brought to you by Tread Partners. Tread Partners is the home of ReTread, our new customer re-engagement program. By using targeted digital ads and communications, we'll help you win back your best-lost customers and even guarantee it with a 10X ROI. So what are you waiting for? Contact us at treadpartners.com.
Today, we're joined by Kevin Marley, managing director of E-Solution Professionals, better known as ESP and even Tireweb.
Kevin, welcome to Gain Traction.
Kevin Marley:
Well, good to be with you, Neal.
Neal Maier:
So, Kevin, you've been in the tire data industry for a long, long time. Tell us about how you got started and how ESP found its way.
Kevin Marley:
Well, I started in the tire industry about 45 years ago. We worked in a mining town in the north of Western Australia. Western Australia, my home city of Perth, is the most distant city, the most isolated city anywhere on earth. And, of course, in the far north of Western Australia, where the mining happens, that's pretty much desert country.
I mostly worked with OTR tires and commercial truck tires, 11R 22.5, and that sort of thing. Progressed through the years to become a store manager, a warehouse manager, a state manager for Goodyear Tires and Toyo Tires at one point. And then met my business partner. We were both 18, young people at the time. And the two of us, he left his business. He sold a very large company to a public listed company, and the family, they said, oh, he was too young to retire, so he needed to do something.
At the same time, Goodyear were going through some problems themselves and were looking for a new way of doing business. And I wasn't a fan of the new way, so the option was for me to leave. But of course, myself and Brett being about the same age and at the same part of our life, hooked up together. And at that time, the internet exploded. This was back in the year 2000. And so the two of us got together and started a business in Australia doing the internet, doing Tireweb, the business plan that we had.
What happened then was we realized that Tireweb and the Australian market was pretty locked down by the manufacturers. Distribution was done by the tire manufacturers as a general rule, and they pretty much agreed that if nobody did anything, then nothing would happen in this space. At the same time, we went, "Well, if we're going to invest a big part of our lives in this, we need to go to where the fight is. We need to go to the country in the world that has the technology." And if we were going to get a bloody nose, then we were going to get it there. So we packed up, went to America, and thought the only way to figure it out if you're going to win the fight is to get into it.
And so we participated in the US market, and we picked up our first business in Boston in the year 2003. So what was Summit Tire, which is now part of the ATD group. And after that, we didn't look back.
Neal Maier:
No kidding? That's literally crossing the globe to find that first foothold, but obviously, it's paid off.
Kevin Marley:
Yeah. Well, look, nobody else was doing it. So we kind of expected when we arrived that we'd meet our competitors and we'd learn our lessons. But it was pretty new then, of course. Placing an order on the internet for product was a novelty. So nowadays, if a system were to go down for any particular reason, it's gruesome for the business that is now very reliant on this process. Often 75 to 80% of a company's distributors' sales come through the online process.
Neal Maier:
I got my start in the tire business in the late '90s, and I am frequently reminded of the days of a clipboard and figuring out what inventory we needed to order for the morning run and rushing to get that in before the office closed or rushing to fax it in before the office closed. I remember, even then, the website ordering changing our lives, making it a lot smoother. And it was clunky at first. It took some getting used to, but that fax was easier back then.
Kevin Marley:
I got say. It's amazing in our lifetime, if you look back at it, there were no such thing as mobile phones, credit cards. Technology has moved so quickly that it's amazing where it'll be in five and 10 years from here.
Neal Maier:
Oh, yes. Right now, of course, everybody's talking about AI, and we see ChatGPT in the news constantly. So that's just touching the tip of the iceberg for where AI can go. So let's jump into five years from now. Where do you see things headed for ESP?
Kevin Marley:
I think data mobility is the thing that will be talked about more and more. We continuously transmit data that most of our clients are probably not even really aware that we transmit on their behalf. Many of the online channels, auto manufacturers are looking for data electronically. Any discussion about AI, we actually employ an AI science guy, and he's in the top two to 300 AI experts in the world.
We think that computers will have a dialogue with each other that is not, and I don't want to get too technical here, that's not XML. So we think that this is the path of AI, and I think this will become more common. Now, to give you some idea of that, I have an electric vehicle, and the electric vehicle comes without a spare tire, and that's reasonably common nowadays.
Neal Maier:
Sure.
Kevin Marley:
So when that vehicle does have a tire issue, it's going to look electronically for a supply point. Now, as I was saying earlier, I'm in a remote part of the world, and while Tesla and electric car companies have got very sophisticated systems, if you get out into the middle of nowhere, you're pretty much on your own. And I think that would be true in America. I've done 78 trips to America, each for at least two weeks. So I've probably lived a good portion of my life in the US, and I certainly would think that that was a common experience.
Neal Maier:
I agree completely. And I think that when you start to think about the remote parts of the United States, they're a long way from a charging station, much less from a tire, not only a tire dealer but a specific EV tire in stock. So now that makes a lot of sense where inventory starts to get smart.
Kevin Marley:
Yeah, I know. I think there's another component there too. When I was young, I knew my car. I was a typical young teenager with my head under the bonnet, checking out all the… We used to do the points in the car by borrowing a nail file.
Neal Maier:
Right.
Kevin Marley:
And if you were to say that to young people today, they'd go, what are points? I think the thing that'll happen is that people will become more disassociated with their cars, and they'll be fleets and leasing arrangements that are part of cars. And again, I think this channels back into the tire industry that if you're running a fleet and perhaps a fleet of electric cars, you're going to be looking for a service capacity. I'm from a tire point of view. That service capacity is going to have to be pretty fast and effective, and efficient.
Neal Maier:
I can envision a world as well, especially as we pull more and more data from vehicles and that becomes more accessible. I can envision a world where inventory becomes a little more just-in-time. Whereby mileage and vehicle data, you can predict, hopefully, when a tire needs to be replaced, but also be able to predict what inventory you should carry based on not what was bought yesterday but what might need to be bought tomorrow.
Kevin Marley:
Yeah. We write white papers. The job of ESP is to look five or 10 years ahead and make certain that we are there with the technology when it arrives. A novel thought that we've had is that if you get into a car, and let's say it's a lease car, and you have the old typical speed dial, but instead of looking at speed, it looks at the insurance. And you top it off, and you put in $500 worth of insurance, then the vehicle assesses how you drive, what the condition of the tires is like, what the road and the environment conditions are like, and then the needle decreases.
And one of the things that you could possibly do to change the speed at which the needle runs your insurance out is to change your tires. Combine that with a good tire recycling project. We know the technology is there to recycle tires back to their component parts. I think there's a catch-up to happen in that space, but if you can say, "Listen, I can trade my tire even though it's half worn to gain my insurance advantage or my mileage advantage if there's an efficiency gain for range mileage in electric cars," that sort of thing. So I think there's a lot there. The technologies will change this industry.
Neal Maier:
I'm excited to see it because traditionally, our industry's been slow to adopt tech, slow to embrace new technologies. It's usually led by the manufacturers, and I think it's refreshing to know that there's someone looking out for the independent dealers as well, helping them plan ahead, too, even though they may not recognize it every day.
Kevin Marley:
Yeah. Well, the input cost for cars are changing. So with an electric vehicle, and if electricity becomes cheaper, my vehicle is recharged from excess solar power. For me, I'm paying about $6 per 500 miles for electricity, and that's because I would normally feed the electricity back into the grid. If we look then at the fact that my vehicle doesn't have a big service component, it doesn't have a big fuel input cost, what are the costs? The real costs for me are the licensing and the insurance. I'll pay far more on insurance in my vehicle this year than I will in power. Now, that's not true everywhere, but we can see a trend towards this. I think tires will be the big expense in my vehicle.
Neal Maier:
Sure. Oh, there's no doubt about it.
Well, let's go back to ESP for a moment. And ESP, I know, has undergone a bit of a branding update along with Ezytire. ESP does a lot of things, so give us an overview of the various areas you touch.
Kevin Marley:
We do a data portion that when we come into contact with data systems, the very core, and we actually have a new development in this space, is what we're going to call Tireweb Core. From there, once you have a data set, which is inventory, price, tire recognition. By that, I mean branding, manufacturer, make, and that sort of thing. From there, you reach out to online shoppers to distributor, to dealers that are buying from the distributor. You deal with Tire Library. I think the essential point that we'd like any listener to walk away with is that there's a data component that Tireweb works with. That's the essential element for us.
Neal Maier:
Traditionally, tire data, in my opinion, lacks some standardization. There's very little in common, sometimes, especially when you're thinking about imports and that sort of thing. Tireweb and through Tireweb, ESP seems to have developed a really good way of managing that data and pulling it together to make it useful across a multitude of platforms. When did that first become a part of the business?
Kevin Marley:
We started the business in the year 2000. I think, in probably 2005 to 2007, we recognized the need for a data supermarket or at least that sort of approach where you can come to the one place and get everything that you need regardless of who the data source originates. So I think in 2007, we said, "Listen, we need to have this data component." It came about from developing websites for dealers where they said, "Listen, I don't only buy from that one supplier. I buy from three or four other suppliers, and yet I want a unified data set." That was a key element for us that leveraged us into the marketplace and said, "Listen, okay, there needs to be this commonality."
I think, for example, the Tire Library, for us, is a unified data set on all tires that we come into contact with. There's been many attempts by other companies to try and address an absolute tire reference, UPC, and many other variant code systems, but they're not complete. I think because we come into contact with virtually every tire, we can imagine, by necessity, we're required to create this unique library of parts and IDs.
Companies that adopt the Tire Library get an advantage because we use a unique code for all of the references to tire products, and we transmit that with data. So anybody using data says, "Okay, what particular product is this?" If you had confusing product codes, and there are a few which are not unique. If you had a confusing product code and you had our reference in the Tire Library, you now have an absolute reference rather than a confused reference.
Neal Maier:
Interesting. I was just going to ask you, and I know there are a handful of instances where you may see the same tire come in with no product code or come in with differing product codes, but ultimately it's the same tire, same size, same specs. That was going to be my follow-up is how do you deal with that?
Kevin Marley:
For us, we built the unique code, so all our systems reference just that unique code. Companies map to that unique code. Often the mapping is easy. You simply say manufacturer, the manufacturer code, and that applies probably 95% of the time. There's no issue there. And the other 5% of the time, there are various ways other companies, who don't use our Tire Library, deal with that. And typically, that is to use the first three letters of the manufacturer name and then the manufacturer part number.
Neal Maier:
Got it. Got it. That makes sense. I've seen it plenty of times come through that way. But no, that makes good sense to me.
Kevin Marley:
We have transaction out and transaction in processes. And by that, I mean we look at the world in terms of data provider and data consumer. So Tread Partners would typically be a data consumer saying just, "Okay, we need information about products." The data provider then says, "Okay, this is the products that I have. These are the part numbers. This is the description of my product." When Tread Partners consumes that data and then wants to place an order, the order has to be translated back to the legacy system to the data supplier system so that we can say, "Okay, this very specific part was ordered." And so there is a translation component there.
Neal Maier:
That's fascinating. And in my experience, it's been done with an extreme degree of certainty.
Kevin Marley:
Thank you very much.
Neal Maier:
Yeah. I've yet to encounter a mismatch, so congratulations.
Kevin Marley:
I appreciate that, Neal.
Neal Maier:
Well, Kevin, I'm, I'm going to ask you a completely different question, and that's thinking back to your experience and history in the business. I'm sure you've received plenty of advice along your way. What sticks out in your mind? What's the best piece of advice you've received?
Kevin Marley:
I had a general manager in Goodyear that I had a great deal of respect for, and I said to him one day, I said, "Listen, I want to go places in the industry. What advice would you give me?" And he said, "As a general manager if you say something, you must do that thing." He said, "You can say no, and that would mean no, but if you ever say yes, you must make certain that you follow through and complete the task." I think that was good advice.
Neal Maier:
I think that's good advice at work. That's great advice at home.
Kevin Marley:
Yeah. Thank you.
Neal Maier:
Well, thank you, Kevin. It's been a pleasure.
Today, we've been joined by Kevin Marley of ESP.
Kevin, where can people go to learn more about ESP?
Kevin Marley:
We've got several people in the United States. I think if a person contacted Sheila Waters and they can find her address on the website, www.tireweb.com.
Neal Maier:
Fantastic. Well, thank you so much, Kevin. It's been a pleasure.
Kevin Marley:
Thank you, Neal.
Thanks, Matt.
Matthew Peters:
Oh, thank you, Kevin.
Announcer:
Thanks for listening to the Gain Traction podcast. We'll see you again next time, and be sure to quick subscribe to get future episodes.