Turning Old Tires Into Treasure With John Ward, E-commerce Manager at Allen Rubber Co.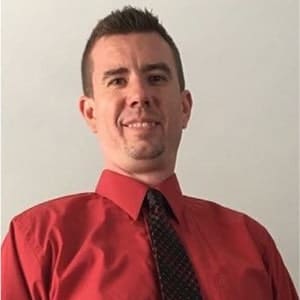 John Ward is E-commerce Manager at Allen Rubber Co and is Owner and President at Ward Media Services LLC. As the owner of a digital marketing agency with a history of working in the automotive industry, John is skilled in store management, inventory management and customer satisfaction. He's also a lifelong competitive hockey player.
In this episode…
Can you make a profit buying and selling discontinued tires? According to John Ward of Allen Rubber Co, that's the focal point of his organization's operation. For exciting insights surrounding this profitable business model, don't miss this episode of Gain Traction!
Which discontinued tires are most preferred? John says Allen Rubber Co. doesn't discriminate against any type of tire — whether it's motorcycle tires, ATV tires, lawn and garden tires, earthmover tires, or anything else. Allen Rubber Co. specializes in selling closeout products that other tire shops may have over-ordered and can't move.
On this episode of Gain Traction, Mike Edge sits down with John to discuss tire sales. They talk about using e-commerce platforms to sell tires, selling closeout and discontinued tires, and the joy that comes from playing highly-competitive hockey in your 40s. John also shares his favorite travel destination. Don't miss it!
Here's a glimpse of what you'll learn:
John Ward shares where he grew up, his favorite sports to watch, and his first job
How John got started in the automotive industry
What types of tires does Allen Rubber Co. handle?
Understanding the overall structure of Allen Rubber Co.
How much pain does John incur from playing competitive hockey at age 41?
The amazing age of John's oldest teammate in hockey
Resources mentioned in this episode:
Transcript
Announcer:
Welcome to The Gain Traction Podcast, where we feature top automotive entrepreneurs and experts, and share their inspiring stories. Now let's get started with the show.
Mike Edge:
Welcome to The Gain Traction Podcast, Mike Edge here. I am the host of Gain Traction where I talk with top automotive business leaders about their personal experiences in the tire and auto repair industry, as well as extract some words of wisdom.
Today's episode is brought to you by Tread Partners and the Retread Program. Tread Partners has a theory that the best place for your new revenue today is from your lost customers. Tread Partners has designed a product called Retread that is a full scale customer re-engagement program to win back a shop's best lost customers. It is a one-time, 90-day program that generates a guaranteed 10 to one return on investment. That's correct, a 10 to one guaranteed ROI.
There are no tricks or gimmicks. These are customers that are in your POS right now. So if you hypothetically invested $10,000 today, we're saying that you'll get a return of $100,000 in 120 days. The program runs for 90 days, we measure it for 120. We think our 10 to one is better than any shop can do for themselves. To learn more, visit Tread Partners.com.
So today's guest is a gentleman that I got to meet. I think we met through a cold call on my part. John Ward has been in the tire business for eight years. He started with a company called Traction Tire and developed their e-commerce presence. After leaving that company, he joined Allen Rubber in 2019. He has been there helping grow the e-commerce business into what it is today.
He's 41 with three beautiful girls they like to call the crew, Kylie, Kinsley, and Kennedy. He continues to play hockey and he has played for almost his entire life. He says he will play until he can't do it anymore. He just played in the tournament in the Environ Anthem and his team won the highest rank platinum division. Work-wise and professionally, he was a top 40 under 40 winner back in 2021 for his accomplishments related to e-commerce tire sales. John, glad to have you on The Gain Traction Podcast.
John Ward:
Thank you very much. I greatly appreciate it.
Mike:
Yeah. So let's talk about your past. We'd like to keep this a little bit biographical. So where'd you grow up? And well, let's start with that. Where'd you grow up?
John:
I grew up in Philadelphia, Pennsylvania.
Mike:
All right.
John:
Was born there, lived there for about 18 years.
Mike:
Are you like a Philadelphia sports fanatic too?
John:
Yeah, not so much basketball, but football and hockey have been my two sports of choice.
Mike:
Okay. So you're having a good year right now with the Eagles, right?
John:
Absolutely.
Mike:
Yeah. All right. So what was your first job after school, professionally speaking?
John:
First job was actually at Sears.
Mike:
Yeah.
John:
I was actually a merchandise pickup associate. I would just grab a pick ticket and grab the customer's TVs or anything bulk, and walk it out to their vehicle.
Mike:
Well, how in the heck did you get to e-commerce from there?
John:
It was kind of a weird path, but I ran a lot of automotive stores between Auto Zones and Advanced Auto Parts. And then I just kind of got tired of the retail aspect of things. I happened to know someone in the tire business. I reached out to them to see if I could get into it, to see if I could just dabble my feet a little bit. And basically that's how I got my start.
Mike:
That's awesome. So when did you finally get into tires?
John:
It was 2015, I believe is when I first officially started my first tire job.
Mike:
And that was with the Traction Tire Company?
John:
That was correct, yes.
Mike:
And so how'd that lead into the e-commerce?
John:
I was hired as just a inside salesperson. They kind of threw me out into the water and said, "Hey, get some clientele. You know everybody likes to talk to somebody." So I just kind of found my niche. And in every invoice I would do, I would just thank them for their business.
And then I had a customer call in and say to the owner, "Hey, who's this guy? He's always thanking me for my business. I really appreciate it." So they saw some attention in me. They asked me if I'd be interested in doing some e-commerce development, which I highly enjoyed. And that's pretty much how I got my start in the e-commerce tire business.
Mike:
So you kind of just fell into it and then-
John:
Pretty much, yeah.
Mike:
Are you primarily self-taught and everything else?
John:
For the e-commerce part, yes. I do have a little bit of a marketing background, so that did help. But I learned how to do the eBay platform, the Amazon platform, Shopify platform, all by myself.
Mike:
Well, and think that's probably the best educator right there, learning with experience and just kind of figuring it out. I mean, plus all those platforms, I mean, I know they're pretty stable, but they do change quite a bit, don't they?
John:
Absolutely, yes.
Mike:
Yeah.
John:
We just went to through a big change with eBay.
Mike:
Yeah. Tell me a little bit about that because I know I've heard a little bit about what … They've had some changes, what's going on there?
John:
So they recently had a payment change where they hold payment. It used to be direct payment through PayPal. They kind of went to their own payment platform. And then the way you list things, they changed a lot of the parameters for the listings. They mixed everything up just to try and make it easier on the user's end to find the products that they're looking for more efficiently.
Mike:
Okay. So it's sounds like, I mean if I'm just guessing it's probably helped on the tire business side then.
John:
A little bit. It was a little bit of a curve. I read a lot of the analytics to see click-through rates and whatnot. It did drop down for a little bit, but now it seems that they've fixed the issues that they might have had in the beta testing. And our algorithms are matching up to what we do to get our customers in front of us.
Mike:
So tell the listeners, you and I met because I think I saw one of your ads in Tire Business or MTD. And then I called you because I had a client that I think they just had bulk tires. If I'm not mistaken, that's the first reason I called you. Do you remember? Because it's been several months now.
John:
Yeah. So I think you reached out through our ad in Modern Tire Dealer or Tire Business. I'm not sure which one it was, but we specialize in buying closeout, discontinued products. There's a lot of places out there that over ordered or have some product they can't move. That's what we specialize in.
Mike:
And, folks, that's called the Tire Net. And that's two words, Tire Net. And they-
John:
The Tire Net.
Mike:
Yeah, The Tire Net. Okay. And they basically, like he just said, they buy bulk tires of overstock. And I think every one of us probably run into that situation at some time or another, where you basically provide liquidity in the marketplace. Is that the best way to describe it?
John:
Absolutely. We found that this was a niche that nobody really went after. Something we started quite a few years ago. I'm new to the team, but this model's been going on for about the past 10 to 15 years. I've just helped kind of evolve it a little bit.
Mike:
Yeah. So you took it basically from kind of print to digital then?
John:
For the most part, yes. When I first joined the team here, they were exclusively on eBay. I've opened them up to Amazon. We also do some drop ship partnerships.
Mike:
Okay, that's good to know. So I think, tell me some of the tires, I mean that you guys have handled for the listeners out there, what could they expect? Or are you open to anything, I guess?
John:
We are pretty much open to anything. We just took on a load of about 7000 units approximately four months ago, and had anything from a little lawn and garden tire all the way up to a earth mover tire. We don't really discriminate against any kind of tire. We just ask that usually they're not too old, not run. But like I said, we specialize in the discontinued products or the hard to move products. We've sold motorcycle tires, ATV tires, anything you can think of.
Mike:
So if someone were to get in touch with you, I mean a lot of people out there, I think their biggest fear in liquidating is that, "Yeah, well they'll only want my good stuff." And then sometimes they're like, "Well, I'll just sit tight because I'm going to take a bath in regards to trying to … I'm going to hold onto the negative stuff or whatever. And then I'm getting rid of my good stuff at a premium for them." So how's that work?
John:
So we do not cherry-pick any lists. We do buy all. All the logistics, we try to make it as easy as possible, and we try to be as fair as possible.
Mike:
Yeah. And I think that's huge. I mean, you put that. Because you're selling in a sense, you're selling that liquidity, but with that liquidity I think comes peace of mind. I mean, it's like, "Okay, finally I got all this stuff cleaned up back here in my warehouse or whatever."
John:
Yeah, I mean, we just dealt with a load that came out of Vegas. They've been having some trouble selling some Goodyear products. They sent us the list, we took the whole list, and both parties are happy. They got rid of the product that they couldn't sell and we sold the product and made a profit on it.
Mike:
When you buy, does the check, I'm going to say the check, but does the transaction come from you? I mean, you're actually paying for it and then you guys bring it in? Or how do you? I guess mean, because you probably have multiple buyers for different lots and whatnot. I mean, are you bringing it all in your warehouse and then-
John:
Yes. So everything that we buy comes in our warehouse, gets sorted by our people. We basically unload it, we sort it, we write it up, we stack it, we picture it. We handle it from start to finish.
Mike:
Yeah. Okay. So if you have a couple idea segments that you … Ideal, let me say that right. You have a couple ideal segments that you really like. Or let's say you're kind of softball for you, what would they be? Like if say somebody's out there listening, and even though I know you'll take the whole lot and you'll disperse of it all or whatever. But what's your easiest? Is it passenger, light truck? Is it ag? What would it be?
John:
It's standard passenger, light truck stuff. We do mud tires 35, 12-5, 20s as one of our bread and butter pieces. But then we do go after exotic stuff. We have 345, 30, 19 Michelins in stock. We go after the pretty exotic stuff that nobody else would feel comfortable going after. But we feel that we make our money on the buy and that's what we do and that's what we pride ourselves in.
Mike:
Gotcha. What else could you tell the customer that would put them at ease about reaching out to you guys? Well first of all, before we forget, why don't you tell the listeners how they could get in touch with you?
John:
There's two pretty easy ways to get in touch with us. It would be at [email protected]. You can send us over lists. That's where we get most of our information from. Or you can give us a call at 484-322-2715.
Mike:
Okay. And we'll let them know that one again. But [email protected] is the easiest email?
John:
That'd be correct.
Mike:
Okay. So tell me a little bit more about your overall company and the structure of it. Did you say it's been around 15 years? Who founded it?
John:
So the internet company, the moniker of us, which is The Tire Net, that's been around for about 15 years. Wes Myers is one of the owners at Allen Rubber. He was the one that started this venture and he grew it to what it was. And he brought on a team to grow it to what it's going to be.
We have a great group of guys here. Like I said, we're a team here. We do everything from start to finish. As far as we talk about the buy, we research the buy together, we sort the buy, we do everything as a team.
Mike:
That's awesome.
John:
That's part of the success.
Mike:
Yeah. And do all your people have a tire background? Or have been in tires for a while?
John:
Our team here, yes. Our company Allen Rubber Company's been around for over 90 years. Proudly family owned and operated. We are tire people. That is 100% for sure.
Mike:
I mean, if you don't mind telling the audience here, but what kind of volume do you guys go through? Roughly speaking, you don't have to be exact. But roughly speaking in regards to the, say on an annual basis for buying lots of tires.
John:
I mean, we buy a lot. Right now we are buying storage containers to hold what we bought.
Mike:
Really?
John:
We're a 66,000 square foot storage facility and we are packed.
Mike:
Now, is there a date on a tire that you won't … I mean, how new does it have, or old does a tire have to be before you'll buy it?
John:
I mean, we don't really discriminate against the age of the tire if it's part of the package. We usually like to see 2015 and newer. But we've seen things come in that are 2010, 2011.
Mike:
So would that move up each year? I mean, you know what I'm saying? Are you got an eight-year window? Is that what you're saying? Or is that in 2024, would you be 2016? Is that what you're saying? Or?
John:
Yeah, that's pretty much the model that we go after.
Mike:
So kind of an eight-year window is your ideal window?
John:
Yes sir.
Mike:
Okay, that's cool. What's the largest tire you've ever sold?
John:
Probably an earth mover tire. I want to say it was like 605, 65, like 34, I believe.
Mike:
Okay. I just think it's cool to know.
John:
It was huge.
Mike:
And then you've done all the way down to lawn and garden?
John:
Yeah, right now we have probably 2000 lawn and garden tires distributed through a couple different spots that we're slowly sorting through. Because it's a lot of onesies, two-sies.
Mike:
Well, all right, I'm going to stray here for a second because I know I mentioned this earlier in your bio. Because you gave it to me, it's nothing that I did myself here. So you're 41 years old and you still play hockey.
John:
That is correct.
Mike:
I'm just sitting here thinking, "Do you take, what's the abuse on the body like right now?"
John:
My games are at 9:30 plus at night.
Mike:
Yeah.
John:
I just got finished a tournament of five games over the weekend in highly competitive hockey. So right now my legs feel like jello.
Mike:
Well, I'm just thinking, I mean, I'm older than you. But I'm thinking, "Man, that's impressive at 41." Because I really started feeling my aches right then, you know? And you're still going at it, which is, you're like the goat, like Tom Brady or something, man.
John:
I've been doing it for so long, I don't want to stop. I did play through college at Temple.
Mike:
Oh, you did? Okay.
John:
Yes, definitely it's something you don't want to give up once you start.
Mike:
I know I'm going to divert again because this is just my nature. So Temple University was founded by, wasn't it Dr. Russell Conwell or somebody like that? Am I right?
John:
Honestly, I couldn't remember right now.
Mike:
There's a great book though, that the gentleman wrote, and I think it's one of the greatest business books I've ever read. And I've heard this, I don't know it for a fact, but I heard the University of Pennsylvania, Wharton School of Business still requires people to read it.
And it's a short read, but it makes a lot of sense in life. And it's called Acres of Diamonds, and I think it's written by Dr. Russell Conwell, who was a founder at Temple. And anyway, just when you said that, and I think it's cool because it's one of my favorite books.
John:
Awesome.
Mike:
Yeah. So if you get a chance, my recommendation to you.
John:
Absolutely.
Mike:
But no, the hockey thing, it's intriguing because my dad, I mean, it's not even close in regards to what you need athletically and the physical nature of hockey, but my dad played softball until he was 51, which I always found impressive.
John:
Well, one of the guys that played in the tournament this past weekend, he was 63. He was my line mate.
Mike:
Oh my gosh. You got plenty. You're like an infant compared to him then, I mean.
John:
Yes, yes.
Mike:
And I'm looking at you like an old guy, and that guy's 63. That's awesome.
John:
Yeah.
Mike:
I mean, now I love that because that guy, he's probably going to live to 99 then. As long as something severe doesn't happen to him. I mean, he's staying in great shape then.
John:
Yeah, he was a great guy. And his nickname for the weekend was Blue.
Mike:
And I know what you're referring to. So for our audience, tell our audience what you referred to there.
John:
If you've ever seen the movie Old School, you're my boy, Blue. He was our boy.
Mike:
That's it. We'll leave it at that. It's a Will Ferrell movie with Vince Vaughn. And is it both Wilson Brothers are in there? I can't remember. One of them is.
John:
I think it's Luke Wilson.
Mike:
Yeah. Anyway, you're my boy, Blue. Anyway. Yeah, if you haven't seen it, you want to get a laugh, that's a good one. Well, before we get off here, because we're actually coming up on our time, tell the audience real quick again, how they can reach you if they have a surplus of tires and they need an outlet for them. I know they can call The Tire Net or they can reach you by phone or email. Just give those again please.
John:
So the best email is [email protected]. Best phone number is 484-322-2715.
Mike:
All right. And let me give you a real tough question here at the end, just to personalize this even more. What is your all time favorite place to visit? And if you got to go by, that's where you'd go.
John:
It would be The Bahamas.
Mike:
All right.
John:
Where my wife and I were married.
Mike:
Nice. You didn't meet there, right? You just-
John:
We did not meet there.
Mike:
Okay. What island were you on?
John:
Grand Bohemian Island.
Mike:
Okay, awesome. Yeah. Were the waters just super clear when you were there?
John:
Yes, sir.
Mike:
Yeah. That's-
John:
We spent 14 days there, so it was a beautiful time.
Mike:
Excellent, man, that's a great memory. No, and I would second that. I could do that one again. I've only been down a couple times and it was a long time ago. But yeah, that's a great place to visit.
Well, John, I want to thank you for being part of The Gain Traction Podcast. It's been a pleasure. And we've been talking for a few months now, but then it dawned on me, man, I need to get this guy on the podcast because just what you do is so unique in the industry, and I think you do provide a lot of liquidity. And I hope that our audience benefits from hearing you and getting to know you today.
John:
I greatly appreciate it. Thank you so much for having me.
Mike:
Oh, you're welcome. So to all our listeners out there, thank you for being part of the podcast. Again, appreciate it here at Gain Traction. If you'd like to recommend a guest to us, please don't hesitate to reach out to me.
We do have a lot of guests that are in our lineup right now, but we're always open to new guests, and how they can contribute to the program overall, and to the industry overall. We love a good conversation. And you can reach me at [email protected]. Thank you very much. Have a great day.
Announcer:
Thanks for listening to The Gain Traction Podcast. We'll see you again next time. And be sure to click subscribe to get future episodes.