Growing and Sustaining a Family Business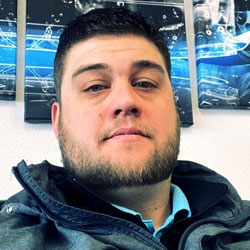 Brian Lenhardt is the Owner and Vice President of Operations at Fat Boys Tire & Auto in Wyoming. Fat Boys has provided services to the tri-state area for over 50 years and now operates five locations. 
Brian is the third generation in the business and has been in the automotive industry since 15 years old. He now has 17 years of experience in the industry and oversees corporate, national, and government accounts while managing Fat Boys' outside sales team. Brian lives in Wyoming with his wife and four kids, and he loves fishing, playing softball, hockey, and golf.
In this episode…
Many companies don't succeed past the third generation when it comes to family businesses. Do you have what it takes to bring your family business to the next level?
Gain your insights from Brian Lenhardt, a true family man with a trusted family business. As a third-generation business owner, Brian is committed to ensuring that his company, Fat Boys Tire & Auto, can continue to expand while providing customers with superior service and high-quality tires. Listen in as Brian shares the key to Fat Boys' success over the course of 50 years.
On today's episode of the Gain Traction Podcast, host Mike Edge sits down with Brian to talk about the history and expansion of Fat Boys Tire & Auto. Brian talks about his journey within the company, the future growth of Fat Boys, and the importance of employee loyalty and customer trust in growing and sustaining a family business.
Here's a glimpse of what you'll learn:
Brian Lenhardt reveals the history of Fat Boys Tire & Auto and how he became Vice President of the company
Brian talks about expanding the business
Brian and Mike Edge discuss the dynamic of Fat Boys and employee loyalty
What is Brian's secret to success in family businesses?
Resources mentioned in this episode: